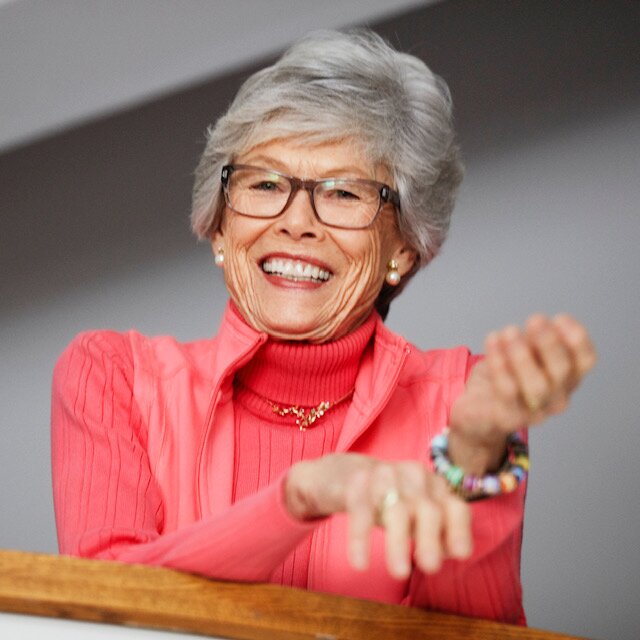 Public Visitation
5:00 pm - 8:00 pm
Thursday, August 11, 2022
Gallaway & Crane Funeral Home Chapel
101 S.Finley Avenue
Basking Ridge, New Jersey, United States

Get Directions
Liturgy of Christian Burail
9:30 am - 10:30 am
Friday, August 12, 2022
The Church Of St. James
184 South Finley Ave
Basking Ridge, New Jersey, United States

Get Directions
Obituary of Bernadette Koch
Bernadette Koch, beautiful and loving wife, mother, grandmother, aunt and cousin passed away peacefully at her home in Basking Ridge on the afternoon of Thursday, July 28th. Taken too soon at 81 years young, "Bern" was a picture of health until a few short months ago when sadly it was discovered she had an aggressive brain tumor.
Bernadette was preceded in death by her mother and father Alice and George Watson and her brother Joseph Watson. She is survived by her devoted husband Bill Koch, daughters Tara Koch and Donna Andres-Hogan, as well as granddaughters Alice and Catherine Lopez. Bernadette was the eldest of nine and is survived by George Watson, Cathy Polovina, Robert Watson, Alice Houseknect, Tom Watson, Paul Watson and Audrey Andres.
Bernadette lived a wonderfully active life, with a list of travels and endeavors that might be unimaginable to many. She was born June 8th, 1941 in Staten Island, NY.
As a young woman, Bernadette competed in many beauty pageants such as Miss Staten Island and was crowned Miss Greater New York, Miss Montauk, and Princess of NY at age 17. She also graced the cover of Seventeen Magazine and went on to secure many modeling ads, both in print and on television. Bernadette served as an interim secretary to the Staten Island Borough President and as the 1964 World's Fair Representative for Johnson's Wax for VIP guests and attendees.
Bernadette was incredibly patriotic and participated in two USO tours in Vietnam which is where she met her husband, Captain William Koch, a 1967 graduate of the United States Military Academy at West Point. Bill and Bernadette married on May 30th, 1970. They soon after moved to West Germany where Bill was assigned his next tour of duty, and where Bernadette taught US Army school children on base. They returned to Staten Island and later moved to Basking Ridge in 1987.
A poised and well-educated graduate of Notre Dame College of Staten Island, Bernadette was a school teacher for kindergarten through fifth grade in the NYC Public School system on Staten Island for over 30 years. She also obtained a Master's degree from Fordham University and was a part-time substitute teacher in the Basking Ridge School System.
Bernadette always had the most beautiful smile and genuine heart, and she didn't fall short on philanthropic endeavors. She was active in the Catholic church through the entirety of her life and constantly volunteered her time serving those in need. Bernadette always said one of her greatest accomplishments was adopting and raising her two nieces Tara and Donna. She was a troop mom for Girl Scouts as Donna was growing up, as well as an active member of the Somerset Hills YMCA where she attended Pilates classes regularly. More recently she was a volunteer at the Montauk Food Pantry and The East End Foundation, as Montauk was a beloved place for Bern since she was a small child.
One of Bernadette's favorite hobbies was participating in television game shows. She was a contestant on "I Guess", "What's my Line?", "Concentration", "Beat the Clock" and "Gambit". She was also a fantastic family historian who loved to collect photos, home videos etc. and could always surprise you with a picture you didn't remember existed. She never forgot a birthday or momentous event for those she loved and always appropriately honored those she held in high respect. Her vivacious energy and commitment to those she loved was unwavering. Bernadette loved to cook, craft and bake, and always had something amazing to share for each and every occasion, from preparing a dinner with friends and family to showing up with the perfect dessert at a formal function. She will be greatly missed and her legacy will live on.
A wake is planned for Thursday, August 11th from 5:00-8:00pm at Gallaway and Crane Funeral Home followed by a funeral on Friday, August 12th at 9:30am at Saint James Church, both in Basking Ridge. For further information please visit www.gcfuneralhome.com. In lieu of flowers, donations in her memory may be made to Tunnel to Towers Foundation https://t2t.org/donate/ or the Montauk Food Pantry at PO Box 997, Montauk NY 11954.
Share Your Memory of
Bernadette