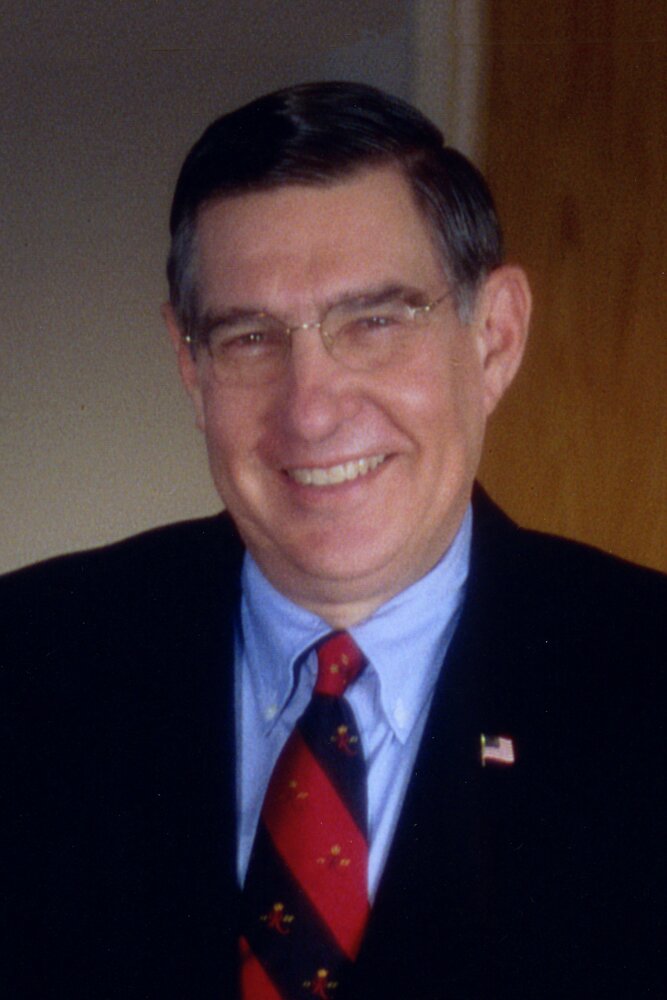 Obituary of Robert E Mulcahy, III
Please share a memory of Robert to include in a keepsake book for family and friends.
Robert E. "Bob" Mulcahy III May 23, 1936 – February 8, 2022 "The nation doesn't simply need what we have. It needs what we are." --St. Teresa Benedicta Bob Mulcahy, a devoted husband, father and grandfather helped define true public service in New Jersey and indeed the nation over the past six decades. He led major institutions with excellence and integrity and shaped countless lives. Born and raised in Short Hills, NJ, Bob attended Millburn High School, and graduated from Villanova University in 1958 with a Bachelor of Arts in History. Having joined the Naval ROTC, Bob then served as a naval officer on the USS Leyte CVS-32 and USS Tarawa CVS-40. His years of service helped foster the commitment and discipline he would need in later endeavors. Bob moved to Mendham, NJ in 1962 with his wife, Terry, his college sweetheart where they resided for 37 years before moving to Basking Ridge in 1999. After moving to Mendham where he and Terry would raise seven children, Bob entered public service first serving on the Council and then being the first member of his party elected Mayor since the Civil War. In 1976, Governor Brendan Byrne named Bob the state's first Corrections Commissioner and later appointed him New Jersey's first Chief of Staff. Bringing New Jersey to the world forefront in sports, entertainment, racing, and special events, Bob served for nineteen years as the President and CEO of the New Jersey Sports and Exposition Authority (NJSEA). Under his leadership, NJSEA developed into one of the nation's premiere sports and entertainment venues, hosting the FIFA World Cup and the NCAA Men's Basketball Final Four, Pope John Paul II's visit to celebrate mass at Giants Stadium, and bringing the NY Jets and the NHL Devils to New Jersey. For ten years starting in 1998 Bob was called to serve as Director of Athletics for Rutgers, the State University of New Jersey. His tenure led to renewed State pride in the school, record Admissions applications, as facilities were upgraded and success followed both on and off the field. Bob was most proud of the school's student athlete's academic achievements during his tenure, where Rutgers Football earned the third-highest national ranking in the NCAA's Academic Progress Report (APR). In 2020, Rutgers University Press published Bob's incisive treatise on building major University sports programs the "right way" and reforming college athletics in America. An Athletic Director's Story and the Future of College Sports in America was published to acclaim as it chronicled his years as Athletic Director and as a national leader in sports management. His extraordinary commitment to selfless service included the Chairmanship of Cathedral Healthcare System in Newark for 13 years and 14 years on the Board of Atlantic Health System where he was awarded system trustee of the year during his tenure. Bob was also a charter member of the County College of Morris, board member for Morris Catholic High School, Chair of the Education Committee for Delbarton School and most recently, the Chairman of Georgian Court University Board of Trustees. Bob also served on the Board of the National Football Foundation and College Hall of Fame, served as Chair of its Awards Committee, and was an honorary member of the American Football Coaches' Association. He received the Medal of Excellence, the Alumni Medal, and the James "Jumbo" Elliot Achievement Award from his alma mater. Among other honors, his most cherished awards include the Knight of St. Gregory medal, received from Pope John Paul II, the Ellis Island Medal of Honor and the Loyal Son Award from Rutgers, honoring those who have made a significant contribution of service to the school. Additionally, he was inducted into the Rutgers University Sports Hall of Fame. Continuing to be called into important public service after 2009, Bob was appointed to the Governor's Advisory Commission on New Jersey Gaming, Sports and Entertainment and then as Chairman of the Casino Reinvestment Development Authority by successive Governors of different political parties. Continuing his involvement in major sports, he served on the Pinstripe Bowl Committee at the request of the New York Yankees and as a senior adviser to the Somerset Patriots baseball team. It is no surprise that Bob received two of New Jersey's most prestigious honors: induction into the Sports Hall of Fame of New Jersey and the New Jersey Hall of Fame, the latter by popular vote. While Bob's career and service accomplishments are immeasurable, the most deep and meaningful legacies in his life are family and faith. Bob is survived by his seven children, Cathleen, Bob, Matthew, Kevin, Muffy, Megan, and Deidre and fifteen grandchildren, Nicholas, Matthew, Alaine, Connor, Tyler, Abigail, Emily, Owen, Katie, Bobby, Drew, Mia, Brady, Annabelle and Emma Grace. He is also survived by his brother, Bill Mulcahy and nieces and nephews. Bob is predeceased by his wife of 62 years, Terry, his brother John and his daughter-in-law Lauren Mulcahy. A wake will be held on February 14th from 4-8pm at Saint James Roman Catholic Church, 184 South Finley Avenue, Basking Ridge. The funeral mass will be celebrated on February 15th at 10:00am also at Saint James Roman Catholic Church. In lieu of flowers, the family requests donations to the Georgian Court University Angel Fund for Student Emergency Needs in Bob's memory. Donations can be made by visiting https://alumni.georgian.edu/give-now and selecting the Angel Fund or mail donations directly to Georgian Court University Office of Institutional Advancement, 900 Lakewood Avenue, Lakewood, NJ 08701-2697. Arrangements by Gallaway and Crane Funeral Home (908) 766-0250.
To send flowers to the family or plant a tree in memory of Robert Mulcahy, III, please visit Tribute Store
Share Your Memory of
Robert