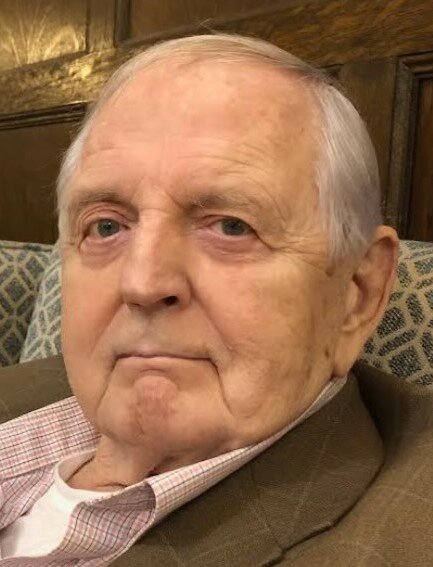 Obituary of George M Newell, Jr
George M. Newell, Jr, a longtime musician, writer, bandleader, and television technical director and producer, passed away at his home in Morris Plains, NJ. He was 90.
George grew up in Pittsburgh, Pennsylvania and became a gifted percussionist & pianist. In what became his greatest family legacy, he graduated from Valley Forge Military Academy & Junior College, Classes of '51 & '53JC, and was a drummer in the famed Regimental Band. He then attended the Ohio State University, and played a six-week summer tour of military bases across Germany. Graduating in 1955, he was commissioned a Second Lieutenant in the U.S. Army Signal Corps as a Motion Picture & Television Director. Following his military service, he was among the first Technical & Floor Directors during the first years of the Mister Rogers Neighborhoodchildren's television show at WQED in Pittsburgh, before moving on in 1959 to a 23-year career at NBC-TV in New York. While at NBC, he was the network technical director for the funerals of JFK & RFK, President Eisenhower, and more than 30 other notable events, plus the regular morning network lineups of Phil Donahue and the Todayshow. In 1981, along with a few Army & television buddies, George helped pioneer the independent WFTS-TV 28 in Tampa, an original forerunner to family-friendly & nostalgic television programming, where he was the founding Station Manager.
George retired from broadcasting in 1986 to pursue his favorite pastime of music writing and performing on drums & piano. He formed the George Newell Orchestra and later his Big Band, and jazz groups both large and small, performing jazz and a flavored modern swing at civic & private events across the tri-state area. Sadly, he said their most notable appearance turned out to be the last actual Big Band to perform at Windows on the World just months prior to 9/11.
George was preceded in passing by his parents George M. Newell, Sr., Captain, US Army, WWII, and Miriam (nee Henderson) Newell, sister Penny Stevenson, and niece Kerry Lee Knox Westerwick. He is survived by his only child Scott Keith Newell, (VFMA&JC Classes of '88 Regimental Band & '92JC), and grandchildren Austin, Marissa, Aidan (VFMA Regimental Band 2018-2019), Summer and Chase, all of South Carolina, as well as nieces Lisa Knox Dorman & Pam England and their families.
George passed peacefully at his home with his longtime best friend and co-performer & singer Joanie Murphy, son Scott, longtime caregiver Camille and his daughter-in-law Brittany at his side.
Christian memorial service with Military Honors by the US Army and the Medenbach Memorial Foundation (association of Alumni, Family & Friends of the Valley Forge Military Academy & College) will be in the Spring of 2024 in New Jersey. In lieu of flowers, George would have loved a contribution to the Medenbach Memorial Foundation (www.MedenbachFoundation.org), church or youth music charity of your choice.
To send flowers to the family or plant a tree in memory of George Newell, Jr, please visit Tribute Store
A memorial service will be held in the spring of 2024-please check back at a later date
UNKNOWN AT THIS TIME
UNKNOWN AT THIS TIME
UNKNOWN AT THIS TIME, New Jersey, United States
Share Your Memory of
George