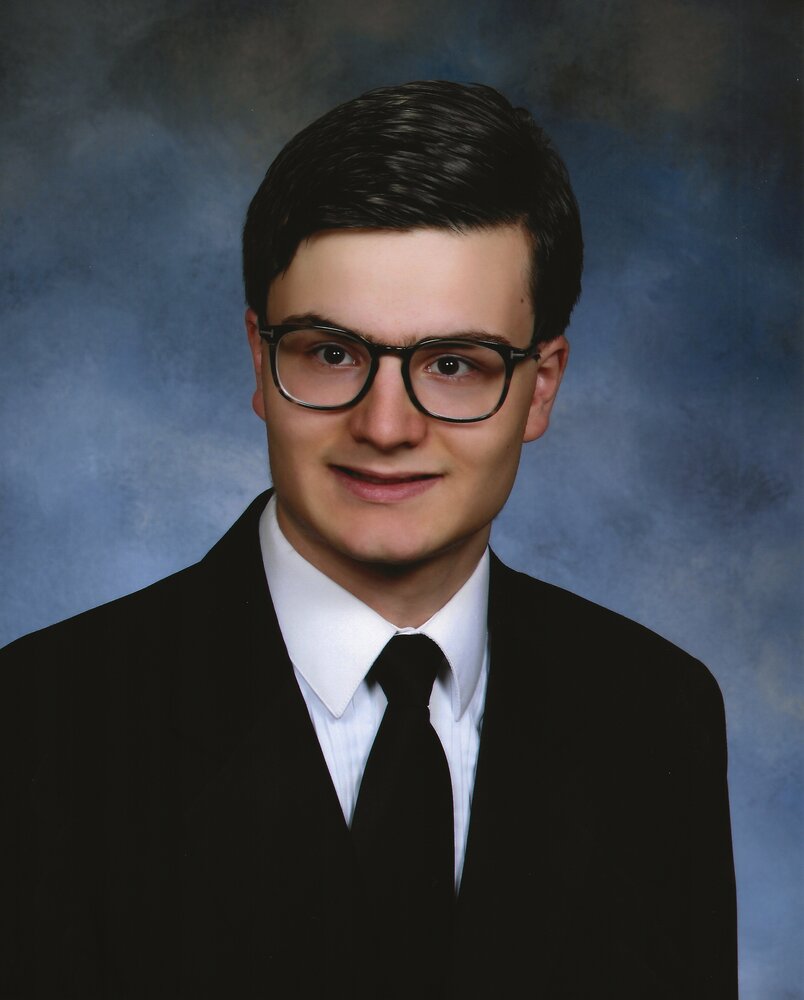 Visitation
3:00 pm - 7:00 pm
Tuesday, October 3, 2023
Gallaway & Crane Funeral Home
101 South Finley Avenue
Basking Ridge, New Jersey, United States

Get Directions
Funeral Service
10:00 am - 11:00 am
Wednesday, October 4, 2023
Liberty Corner First Presbyterian Church
45 Church Street
Basking Ridge, New Jersey, United States

Get Directions
Obituary of William A Richardson
William Alton Richardson, 18, of Bedminster, NJ, died Saturday, September 23, 2023, from injuries sustained upon being struck by a car while out walking near his home. If ever there was anyone who was the embodiment of the good, the true, and the beautiful, it was William. He was a kind and gentle soul who was beloved by all who knew him. Every day spent in his company was a precious gift from God.
William was born January 10, 2005, in Hackettstown, NJ, to Mark and Carolyn (Grau) Richardson. He attended Hope Township School and Bedminster Township School, where he was a three-time winner of the school geography bee. He was graduated from Bernards High School in June 2023, but his real education came from the thousands of books he read and studied in the fields of history, geography, chemistry, biology, astronomy, mythology, and the development and evolution of languages, among others. His grandfather, Erich, built a wall of floor-to-ceiling bookshelves in William's bedroom to house his library. When William was younger, he never went anywhere without a book, often entreating those around him to carry his books for him. More recently, he was known to take a volume of Plato's writings along to the barbershop to read while waiting for his haircut. He was a true scholar and was conversant in a broad range of subjects, making him an ideal museum companion and a delightful lunch date. He had a particular passion for maps and globes from all time periods and was fascinated by the evolution of geopolitical boundaries over time. Whenever a question arose among family members, it was always met with, "Ask William, he will know." He loved to share his knowledge with others and managed to do so without being preachy or patronizing; he was good at explaining things.
William had a true sense of wonder for God's creation, and walks through the fields or on a trail with him always came with a mini-lecture on whatever creatures might be encountered. He was blessed to live along the North Branch of the Raritan River, which provided a steady parade of wildlife for his observation and enjoyment. A walk through the zoo with William was a real educational experience for those in his company.
He was hilariously funny with a quick wit and a dry sense of humor. Even those who knew him well were caught off guard with his deadpan one-liners and observations because they always came at the most unexpected moments. He was utterly charming in every way.
William's life was not without difficulties. He was on the autism spectrum and he suffered from anxiety and, more recently, OCD, which could be debilitating to him. However, in typical William fashion, he was rising to the occasion and working to overcome it in his own unique way. School work was difficult for him. He found it tedious and overwhelming, and, as he said of the multiplication tables in fourth grade, "I'm just really not that interested in it." Nevertheless, he persevered, as always, and was graduated with high marks. He marched to his own drum, which didn't always comport with the expectations of the world around him, but he was unfazed, and persisted in living his life just exactly as he wished.
In the days since graduation, William spent his time practicing driving in hopes of attaining his license, tutoring his cousin Carly in Latin, mowing the walking paths on his family's property, listening to podcasts on the English Civil War, playing strategy games, watching episodes of Agatha Christie's Poirot with his mother and brothers, studying Google Maps, and, of course, reading. He was working through an astronomy curriculum, a subject he knew well, but he delighted in each new detail he picked up. He hoped to attend college in the future and had recently talked of writing short stories or even a novel. He had a clever way with words, and he could tell a good story. One of his favorite activities was taking long bike rides on the trails throughout Bedminster with his brothers, John and Daniel, his two best friends.
William attended church faithfully every Sunday with his family. He would routinely pick up the Bible upon arrival to read while he waited for the service to begin, occasionally carrying on reading throughout the entire service. We are confident he is now with his Lord and Savior, Jesus Christ, where he is pouring over the most magnificent maps ever created, the maps of all time and space, with the Creator of the Universe and Writer of all History.
William is survived by his parents, Mark and Carolyn Richardson, and his brothers, John and Daniel, of Bedminster; his grandparents, Erich and Renate Grau of Blairstown; his uncle, Timothy Grau of New York City and his wife, Susan Kim, and their daughter, Millicent; his uncle, Peter Grau of Bedminster and his wife, Cynthia, and their daughter, Emma; his aunt, Sandra (Grau) Ruzicka of Bedminster and her husband, Jesse, and their daughters, Carly, Beatrice, Penelope, and Iris; his aunt Emily (Grau) DeGrado of Milton, MA, and her husband, Jeremy, and their children, Eleanor, Madeline, and Erich; his uncle Robert Richardson of Harleysville, PA, and his wife, Molly, and their daughters, Carly, Nora, and Reese; and his aunt Susan (Richardson) Crahall of Dallas, PA, and her husband, AJ, and their children, Emily and Zachary. He was predeceased by his beloved grandparents, Robert and Sandra Richardson of Dallas, PA.
Donations in William's memory may be made to Knowlton Presbyterian Church, 3 Knowlton Road, Columbia, NJ 07832 or Liberty Corner Presbyterian Church, 45 Church Street, P. O. Box 55, Liberty Corner, NJ 07938.
Share Your Memory of
William