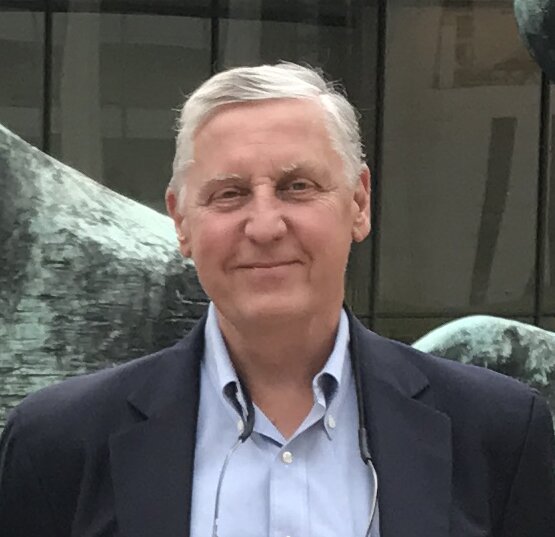 Obituary of Stephen B Brady
Stephen Bernard Brady, 72, of Bernardsville, NJ passed away on Friday, August 18 surrounded by his devoted family after a courageous battle with pancreatic cancer.
Steve was born in Rochester, NY in 1951 the son of James and Margaret Brady (deceased). He is survived by his wife Marilyn Jones of 44 years, daughter Emily Brady (Josh Pinkerton) New York, NY and his new special grandson Theodore "Teddy" Brady Pinkerton. He is predeceased by his beloved son Benjamin Brady. Steve is the second oldest of large family of 7 children. Kate Brady (Kazu Nishikura) Karuizawa, Japan, Virginia Brady (Joseph Kishel) Basking Ridge, NJ, John Brady (Noro Ramahatafandry) Pasadena, CA, Elizabeth Brady, New York, NY, Jeanne Brady, Bronx, NY, Martha Brady (Howard Roberts) Millburn, NJ. When Steve's family gets together they recount their many fond memories of growing up in Pittsburg PA, where they spent their childhood, before moving to Clarks Summit, PA in the summer of 1964.
Steve loved his many nieces and nephews and their children. Megumi Nishikura (Stephan Schmidt & Yuna), Glendale, CA, Katie Kishel, Bedminister, NJ, Jackie Kishel, New York, NY, Daniel Brady (Dana Abrassart & Yolana) Brooklyn, NY, Michael Brady (Coraline Tiley) Paris, France, Anna Roberts, Washington DC, Bob Jones (Sarah Goldenthal & Miles and Leo) Ramsey, NJ, Jon Jones (Laurie Segall) Brooklyn, NY.
Steve graduated from Abington Heights High School in Clarks Summit, PA in 1968. Following graduation, he earned a BS in Economics from The University of Scranton. He worked at Prudential Financial in Newark, NJ for over 40 years as a "comp" geek. Steve will be remembered for his loyalty to the Pittsburgh Pirates, a faithful fan who never gave up believing they could have a winning season, despite all evidence to the contrary. Aside from his love for baseball, Steve was an avid golfer, gardener, and Civil War enthusiast. He was a neighborhood staple who could always be found "putzing" around in his yard. After retiring, Steve enjoyed working with his fellow gardeners at the Bernardsville Community Garden and researching his ancestry.
Steve will be missed by his family in many ways. His gentle way with children made him the favorite Uncle Steve. His favorite Groucho Marx jokes may be forgotten but Steve's life will be remembered by all that knew him.
A private family celebration of life is planned for the fall. For further information, or to leave an online condolence message please visit www.gcfuneralhome.com
In lieu of flowers, contributions can be made to Lustgarten Foundation for pancreatic cancer research.
Share Your Memory of
Stephen