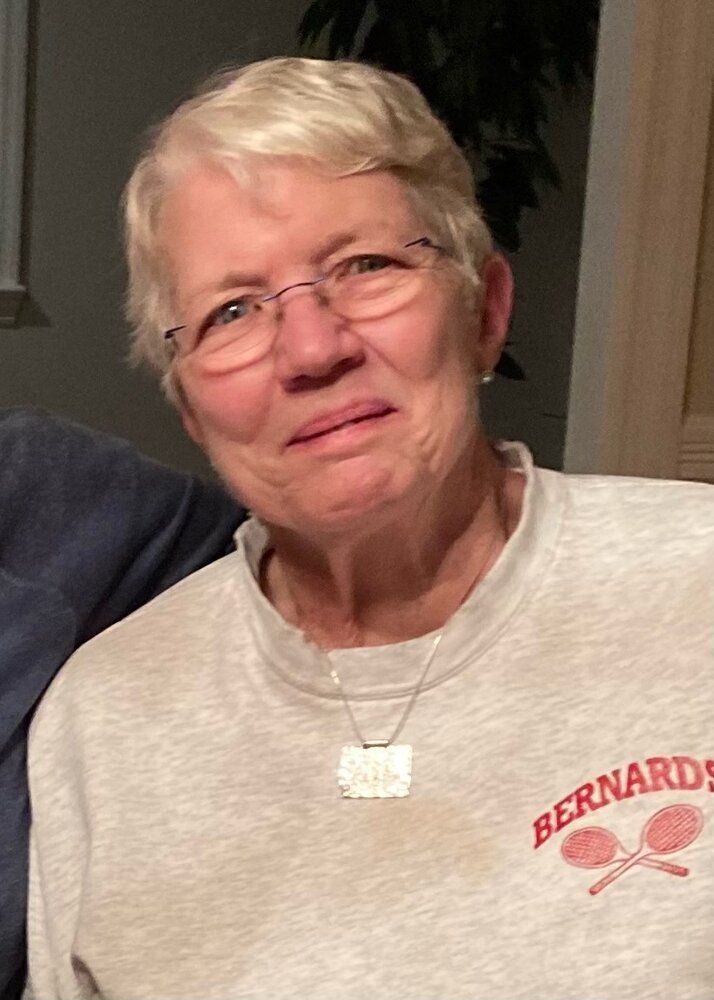 Visitation
5:00 pm - 8:00 pm
Monday, August 7, 2023
Gallaway & Crane Funeral Home
101 South Finley Avenue
Basking Ridge, New Jersey, United States
Funeral Service
10:00 am - 11:00 pm
Tuesday, August 8, 2023
Gallaway & Crane Funeral Home
101 South Finley Avenue
Basking Ridge, New Jersey, United States
Entombment
11:30 am - 11:45 am
Tuesday, August 8, 2023
Gate Of Heaven Cemetery Mausoleum
225 Ridgedale Ave.
East Hanover, New Jersey, United States
Obituary of Audrey Smith
Audrey (Sue) Smith
Audrey (Sue) Smith passed away peacefully at home in Brielle, New Jersey, on August 1, 2023, her 79th birthday. She was surrounded by family.
Born Audrey Margaret Walsh on August 1, 1944, in Orange, she was raised in South Orange by her parents, Richard and Audrey Walsh. Her older brother, Richard, gave her the nickname Sue as a child, and it stuck with her throughout her life.
Sue attended Marylawn of the Oranges high school in South Orange and was the first in her family to graduate from college, earning a bachelor's degree in sociology from Saint Francis University in Loretto, Pa. Upon graduating from college, she traveled across Europe, collecting some of her favorite stories and developing a love of travel that she passed down to her kids and grandkids.
In 1968, Sue was set up on a blind date with a Georgetown University law student, Dick Smith. The two married in 1969 and settled down briefly in Arlington, Va., before returning to South Orange in 1972. Sue and Dick raised their three children—Courter, Erin, and Katie—in South Orange and Maplewood.
Though Sue held various jobs outside the home—she taught at Our Lady of Sorrows School in South Orange, sold real estate, and worked as the Chicago-area admissions representative for Saint Peter's University, among other things—her true passion was helping people. She was a counselor at heart, always willing to lend an ear or a hand. Sue was a straight shooter who spoke the truth, but did so with kindness. She rooted her advice in the Bible—a well-worn copy of which she kept on her nightstand—and spent her life leading others to the true source of joy, Jesus Christ. Sue was a founding board member of the House of Mercy Mission in Newark and a member of the prayer ministry team at King of Kings Worship Center in Basking Ridge.
A true Jersey girl, Sue loved the Shore. After spending seven years in Illinois for her husband's job, she got her wish of living at the beach. She and Dick returned to New Jersey in 1998 and bought a house in Sea Girt before settling in Brielle in 2001. They also maintained a residence in Basking Ridge, to be close to their grandchildren.
Nothing made Sue happier and prouder than her five grandchildren, who nicknamed her "Woolley." She poured her heart and her time into her grandkids, building the last 20 years of her life around them. She taught them to ride waves, scoured the beach with them for seashells, and dared to join them on every boardwalk ride. She also gave them both spiritual and physical roots—teaching them to love the Lord and bringing them to her family's homestead in Ballinamore, County Leitrim, Ireland. More than anything, though, Woolley and Poppy (Dick) loved watching their grandkids play sports. They traveled to Illinois for baseball and softball games and were fixtures at Bernards High sporting events, climbing to the top of the bleachers to get the best view of every game.
Sue is survived by her husband of 54 years, Richard C. Smith Sr., and their children, R. Courter Smith of Brielle; Erin Donaldson (David Donaldson) of Winnetka, Ill., and Kate Smith (Steve Chadwick) of Bernardsville. She is also survived by her adoring grandkids: Ally, Nate, and Kendall Schmerler of Bernardsville and Avery and Keenan Donaldson of Winnetka. She was predeceased by her parents and brother.
Visitation and a funeral service will take place at Gallaway & Crane Funeral Home, 101 S. Finley Ave, Basking Ridge NJ, 07920. Visitation is scheduled for Monday, August 7, 2023, from 5-8 p.m. Funeral Service at 10 a.m. on Tuesday, August 8, 2023. Burial will follow at Gate of Heaven Cemetery in East Hanover.
In lieu of flowers, and in honor of Sue, the family asks that you help the next person you see in need. Just as she would have done.
Share Your Memory of
Audrey