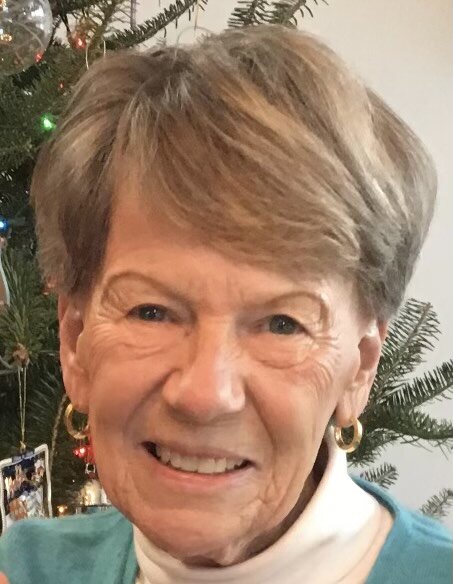 Memorial Mass
10:00 am - 11:00 am
Friday, July 14, 2023
St. James Church
South Finley Ave.
Basking Ridge, New Jersey, United States

Get Directions
Burial of Ashes
11:15 am - 11:30 am
Friday, July 14, 2023
Holy Cross Cemetery
Mt. Airy Rd.
Basking Ridge, New Jersey, United States

Get Directions
Obituary of Jacquelyn Zachman
We are saddened to share that Jacquelyn Mary Sears Zachman (81) passed away peacefully at home on July 2, 2023, surrounded by her loving family. Her funeral mass will be held on July 14, 2023 at St. James Church, Basking Ridge, NJ, with the burial to follow at Holy Cross Cemetery. Lunch and refreshments will be served afterwards at St. James. All are welcome to come join us in celebrating the life of this remarkable woman.
Born in Indianapolis, Indiana on October 25, 1941, Jackie was the 2nd child of Herbert and Marge Sears. Following her father's early death when she was only 7, she grew up surrounded by the love of her mother, her brother and 2 sisters, as well as her beloved grandparents and family.
After attending St. Agnus high school in Indianapolis, Jackie pursued a History degree at Purdue University. She joined a sorority and excelled at academics, becoming an elementary school teacher after college.
She married her now ex-husband Jim and together they had four children, Jeanne, Chris, Sheila and Gretchen. They moved back and forth between Indiana and New Jersey before settling in Basking Ridge.
She lost her son Chris in a tragic car accident when he was just 17. While she always kept Chris close to her heart, she infused the life of her daughters with joy and laughter, making sure they knew they were loved.
Her three daughters had 10 grandchildren between them and each one felt all the love that their Mimi would give them. She was a playful grandparent, always up for whatever schemes or games the kids had in mind. Every Christmas, she baked cookies with her grandkids, carrying on the tradition she started with her own daughters. She is adored by her grandchildren.
To say that Jackie enjoyed life is an understatement. Her eyes would sparkle when she was with her many, many cherished friends. She loved to explore and drove around the country several times in a station wagon filled with kids. She traveled around the world whenever she could, visiting her daughters in California, Japan and New York City, eagerly awaiting the next trip on the horizon. She loved weekend getaways with her girlfriends and played bridge since college. Jackie was always up for a fun party and would bake the best pies in the world. Remarkably, she seemed to attend nearly every game, match, recital, performance, graduation and celebration of her children and grandchildren, always cheering them on.
With one of her dear friends, Jackie opened Elite Repeat consignment shop, which quickly became a favorite destination for people looking for Jackie`s unique blend of fashion sense and personalized attention.
Throughout her life, Jackie's defining traits were her humor, kindness and generosity. She extended grace to everyone in her life and may be the only person ever to have never spoken badly about anyone. She was quick to laugh and loved being surrounded by her spirited grandkids as they grew up. She never stopped learning and spent most mornings reading the NY Times front to back. Jackie was rarely without an opinion or an inquiring question about the world.
Jackie's humble Catholic faith carried her through difficult times and provided solace and hope throughout her life. That deep faith infused her commitment to helping those in need and working for a more just and equitable world.
Jackie is survived and will be deeply missed by her daughter Jeanne Keever and her husband Bryan, their children, Megan, Zachary, Rachel and Alex; her daughter Sheila Zachman and her husband Paul Rollin, and their children, Charlie and Beatrice; and her daughter Gretchen Miura and husband Keno, and their children, Kai, Miles, Rina and Sophia. She is also survived by her older brother Michael Sears and younger sisters Donna Lowe and Margie Sears. She was preceded in her death by her son, Christopher, and her parents, Herbert and Marge Sears.
In lieu of flowers or donations, we ask you to offer a small act of kindness in Jackie's honor. Call a friend and meet up for margaritas, say hello to a neighbor or ask how the cashier's day is going.
Jackie lived by the words of Mother Teresa, "Do small things with great love". This is her very rich legacy.
Share Your Memory of
Jacquelyn