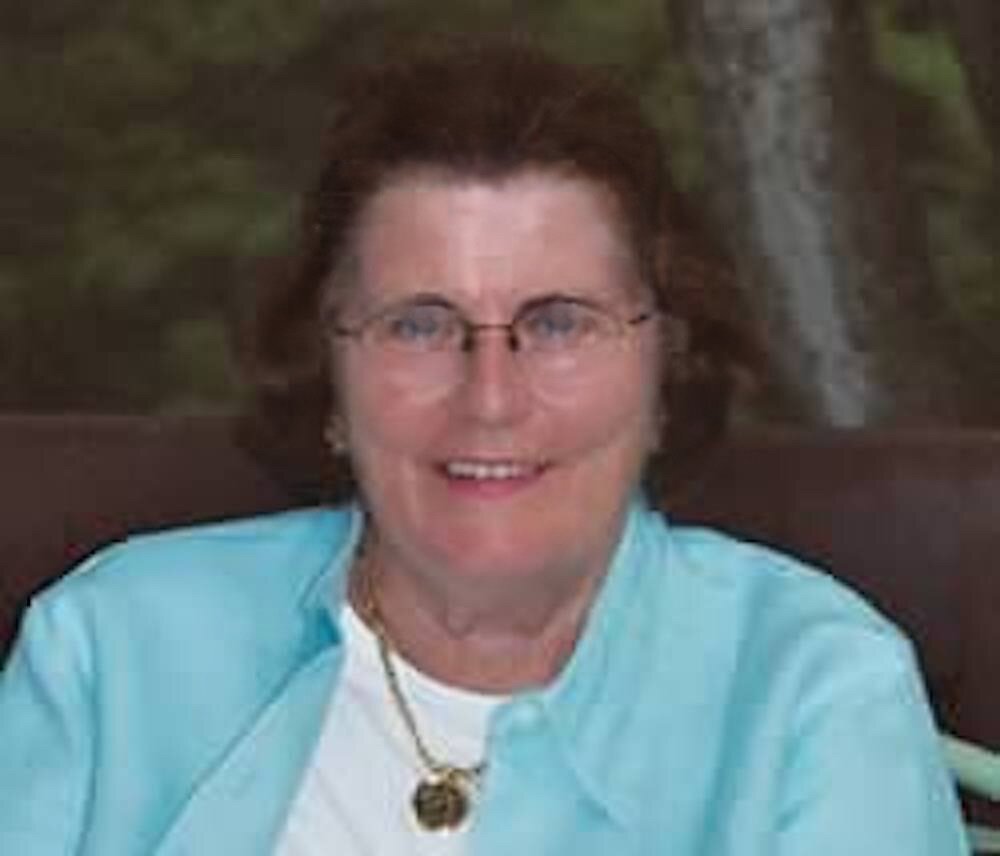 Obituary of Virginia H Moriarty
Harding Township, NJ - Virginia Hyde Moriarty, born January 8, 1930, died peacefully at home on January 22, 2023. She lived an extraordinary life with grace and humor from start to finish. She was a role model to many, always engaged in the world around her.
Virginia grew up in Clayton, NY and graduated summa cum laude in 1951 from Syracuse University. She worked at General Foods as a home economist and met her future husband during a Spring Lake, NJ weekend with friends. She and Ed were married in 1956 and began a life together filled with family, love and laughter.
While many would be challenged by the feat of raising seven children, Ginny was known to say "I guess you could call me a joiner." Each time they relocated with Ed's career at Merrill Lynch, she immediately got involved in the community. Once they were settled in New Jersey, she was well-known for her dedication to her various parishes, participating in numerous committees, including taking on such major commitments as leading the finance committees at St. Rose of Lima and The Church of Christ the King. She greatly enjoyed her involvement with the Bernardsville and Harding Township planning boards as well as the Bernardsville Garden Club.
Ginny treasured her friends and was a master at maintaining those friendships, staying in touch with so many friends from her college years, through the numerous moves with the family, as well as her wide-ranging community involvements. In recent years, her regular calls with friends were especially precious to her.
Ginny and Ed were happy to discover two special family get-aways; first Quechee, Vermont in 1973 and later Bonita Bay, Florida in 1991. The family memories made in both locations with their children, grandchildren and friends are a legacy both Ginny and Ed were so pleased to pass on to their family.
In 1997, Virginia was pre-deceased by Ed, with whom she shared a loving 41 year marriage. Her interest in community and civic engagement served her well long after Ed passed away. She took immense pleasure in her founding role of the Kemmerer Library in Harding, NJ. She served on the Board of Trustees at St. Peter's Prep, Delbarton School and Bucknell University. Ginny took great joy in the work of the family's charitable foundation that was formed upon Ed's passing, and the support it has provided to various academic and charitable organizations over the past 25 years. She was so appreciative of the good work the people in those organizations do every day.
Ginny will be greatly missed by her seven children and their spouses, Kathleen and James Skiff, Susan and Thomas Gallagher, Edmond and Jill Moriarty, Mary Ellen Moriarty, Patricia Parisi, Elizabeth and Eric Kemp, J.D. and Amanda Moriarty; her 17 grandchildren and their spouses, Callie and Michael Clinch, Patrick and Kelli Gallagher, Kevin and Megan Gallagher, Brendan and Kelsey Gallagher, Kelsey Gallagher, Meaghan Moriarty, Edmond Moriarty, Kaitlyn Moriarty, Shane Moriarty, Jack Parisi, Michael Parisi, Matthew Parisi, Harrison Kemp, Alexander Kemp, Katherine Kemp, Andrew McGovern-Moriarty and William McGovern-Moriarty; and her four great-grandchildren Susan Gallagher, June Gallagher, Clara Gallagher, and Virginia Clinch.
Visitation will be at the Gallaway & Crane Funeral Home, 101 S. Finley Avenue, Basking Ridge on Thursday, January 26, 2:00 - 4:00 pm and 6:00 - 8:00 pm. A funeral mass will be held at The Church of Christ the King, 16 Blue Mill Road, New Vernon, on Friday at 11:00 am, followed by burial at Holy Cross Cemetery, Mt. Airy Road, Basking Ridge.
In lieu of flowers, memorial contributions may be made to the Edmond N. & Virginia H. Moriarty Charitable Foundation, 39 Shalebrook Drive, Morristown, NJ 07960 or The Church of Christ the King, 16 Blue Mill Road, New Vernon, NJ 07976.
Share Your Memory of
Virginia