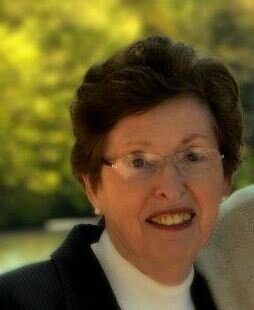 Obituary of Bridget T Smith
Bridget Connolly Smith, 87, died peacefully at her home in Basking Ridge on Monday November 28, 2022 surrounded by her family. She was the youngest of John and Margaret Connolly's nine children. She had an idyllic childhood in Glenamaddy in County Galway, Ireland on a dairy farm in Loughpark that is still owned and run by her nephew and his wife.
At 16 years old, she lost her mother and at 18 she came to America with two friends to stay with her aunt in New York. During her year in America, her father passed. After returning home to Ireland, she decided to come back to America and make it her home. She took a job and shared an apartment with good friends. On weekends, they danced to Irish music at City Center and had lots of laughs. Summers were spent on the "Irish Riviera" in East Durham in the Catskill Mountains where she met the love of her life, Eddie Smith. She and Eddie married and moved to Hicksville, New York where they lived for 46 years.
They raised three daughters, Margaret (Reif), Joanne (Kleinle) and Patricia (Smith), there and were devoted parishioners of Our Lady of Mercy Parish where they made many close friends. Bridie was passionate about her faith. She was a Eucharistic Minister and brought communion to the homebound and people in the hospitals. Long before being an activist was fashionable, she influenced many by her strong faith, steadfastness and example.
She stayed in close touch with her family in Ireland and her brothers and their families in England, making many trips back with Eddie and the girls. Her house and her table was always open. She was famous for her creamy mashed potatoes, her impeccable style and her red lipstick, but most of all she was loved for her subtle wit. She had an infectious laugh and had a way of making everyone feel like they were the funniest person in the room.
She loved to be with her grandchildren. She did not drive on highways but would take train after connecting train to be there to babysit whenever needed. She always had a full cookie jar to welcome them, ice cream in the freezer AND money for the ice cream truck if it came down the street. She was very affectionate and loved when her grandchildren came to her for a big hug.
Six years ago, she and Eddie moved to Downingtown, PA to be near Margaret's family where they made many friends in Downing Forge. After Eddie passed this summer, she moved to Basking Ridge to live with Joanne's family. She was a big fan of the Villa Walsh volleyball team and lived for her children and grandchildren. While in Basking Ridge, she attended the VNA Adult Day Center and was cared for by nurses from Compassionate Care. The family is eternally grateful for the loving care that she was given by them.
She is survived by her daughters and their husbands Joe Reif and Reed Kleinle. Also, by her grandchildren to whom she was affectionately called "Grammy" - Matthew Reif and his wife Alexa, Stephen Reif, Katie, Annie, Brendan and Amelia Kleinle.
Visitation will be held on Friday, December 2, 2022 at Gallaway and Crane Funeral Home, 101 S. Finley Ave, Basking Ridge, NJ from 5:00 - 8:00 pm. Funeral Mass will be held on Saturday, December 3, 2022, 11:00am at St. James Church, 184 S. Finley Ave, Basking Ridge, NJ. Cremation services will be private for the family.

In lieu of flowers, please consider a donation to the Visiting Nurse Association at https://www.vnannj.org/donate.html or the Alzheimers Association at http://act.alz.org/goto/bridget_smith
To send flowers to the family or plant a tree in memory of Bridget Smith, please visit Tribute Store
Visitation
5:00 pm - 8:00 pm
Friday, December 2, 2022
Gallaway & Crane Funeral Home
101 South Finley Avenue
Basking Ridge, New Jersey, United States
Funeral Mass
11:00 am - 12:00 pm
Saturday, December 3, 2022
St. James Church
184 South Finley Avenue
Basking Ridge, New Jersey, United States
Share Your Memory of
Bridget