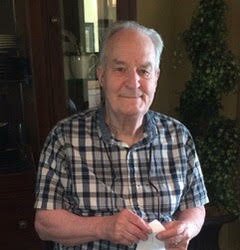 Obituary of Walter T Reichle
Dr. Walter T. Reichle 1928-2022
Walter Reichle, 94 passed away at home on November 21, 2022 after a brief illness. He was born in Cleveland, Ohio to the late Dr. Herbert and Hildegard Stangl Reichle.
Upon completion of high school he enlisted in the Army serving in Japan and Korea and completed his military service as a Corporal with the Army Reserves. He received his bachelor of science degree in 1953 from the college now known as New Jersey Institute of Technology and in 1958 earned a Phd in chemistry from The Ohio State University.
Walter and Janice (Gardner) were married for 69 years and together they raised three children in Millington and then residing in Warren for 46 years.
Walter spent over 45 years with Union Carbide Corporation (Dow) as a research chemist in the area of catalyst science developing over 30 patents for the company. During his career he completed his post-doctoral fellowship at Princeton University. Walter was a Senior Corporate Fellow which was the highest title in research and development that one could achieve at Union Carbide. He was known for his mentoring of co-workers offering support with their own research efforts.
He had a passion for classical music and gardening sharing his fruits and veggies with co-workers, neighbors and of course family. He enjoyed taking beautiful bouquets of flowers from his garden to the places he visited often such as his doctors offices and the Warren library.
Janice introduced Walter to a life with pets; dogs, cats, horses and a variety of pocket pets. A happy day in retirement for Walter was working in his flower and vegetable garden with several rests to pet the barn cat or say hello to the horses.
He is survived by his wife Janice, his son, Tom Reichle of Chester, his daughter Anne and her husband Justin Lynch of Bernardsville, and his daughter Dr. Jean Reichle of Santa Monica, California as well his grandchildren; Erin, Matthew and his wife Lucy and Andrew Lynch.
We are eternally grateful to those who cared for Walter with love and compassion at home and at the Morristown Medical Center.
Share Your Memory of
Walter