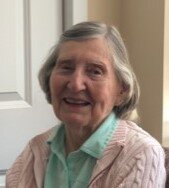 Obituary of Marcella D Teele
On October 22, 2022, Marcella Davis Teele, Marcie, as she was known to her friends and family, passed
away peacefully at the age of 95.

She moved to the Basking Ridge community of Fellowship Senior Living in 2017 from her home on Long
Hill Rd in Millington where she resided for over 60 years.

Marcella was Born to Rupert and Gladys Davis in Greenwood South Carolina on June 1, 1927 moving
soon afterwards to Knoxville TN where she grew up. She attended St Anne's in Charlottesville VA and
Brentwood College in NY. She worked in the advertising department of Harper's Bazaar Magazine in
NYC until she married William B Teele in November of 1953. Together they had two daughters, Margaret
Teele Rothberg (John)of Bound Brook, NJ and Elizabeth Teele-Haidinger(Hans) of Kraiburg, Germany.
Marcie had five grandchildren, Amy Rothberg Salamon (Adam) Jack Rothberg, Molly Rothberg, Dustin Haidinger (Melissa) Zoe
Haidinger Lerch (Manuel) and four great-grandchildren, Avery, Skyla, Zuri and Cody.

Marcella will be remembered for her kind gentle spirit, never complaining and always pleasing nature.
She was a communicant of All Saint's Episcopal Church, Millington where she served in many capacities
for many years. She was a member of the Morristown Junior League and found joy in volunteering at the
Nearly New Shop and The Matheny School. Mom loved the theater, in addition to attending broadway
shows and local theater productions, she was a member of the Junior League's Marionette group for over
twenty-five years.

A place Mom held deep in her heart was the camp on Teele Island, Meddybemps Maine where her family
continues to gather and spend summer months.

The family wants to thank all the nurses, caregivers and staff at Fellowship for the kindness and gentle
care they bestowed on Mom.

Funeral arrangements will be private and under the direction of Gallaway and Crane in Basking Ridge.

In lieu of flowers contributions may be made to The Meddybemps Lake Land Trust (MLLT) PO Box 298
Calais, Maine 04619
Share Your Memory of
Marcella