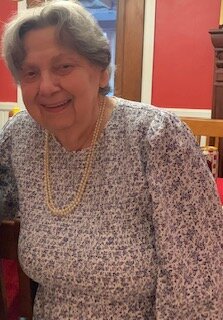 Obituary of Ruth C Slack
RUTH CAROLYN SLACK
Ruth Carolyn Slack, 88, of Basking Ridge, NJ passed away Sunday, September 25,
2022 at her home in Ridge Oak Senior Housing.
A native of Raritan, New Jersey she was born March 13, 1934 the daughter of the late
Charles Edmund Hill and Verona Grega Hill.
Ruth was predeased by her husband Arthur Norman Slack and is survived by her
daughter, Heather L. Middleton and her husband Todd D. Middleton of Basking Ridge,
New Jersey, her son Dale L. Slack and his wife Susan Slack of Duluth, Georgia, her
sister Ardyth Brady of Sonora, California, brother-in-law Bruce M. Slack of New Port
Richey, Florida and her granddaughters: Jennifer B. Middleton of Basking Ridge, New
Jersey, Hannah M. Middleton of Basking Ridge, New Jersey and Alexandra L. Slack of
Duluth, Georgia
Ruth graduated from Somerville High School in 1952 and worked as a research typist at
the Johns-Manville Company in Manville.

In September,1955, Ruth was one of the first women sworn in as a Hillsborough
Township Civil Defense Police Officer. She worked along side her husband Arthur Slack
who was a Sergeant in the Civil Defense Unit
Ruth had many paid positions while raising her children. She worked as a computer
technician at National Starch Corporation in Manville, NJ and later worked as a
Librarian for the Alma Preparatory College Library in Zarephath, New Jersey. Her last
employment was as an Administrative Assistant to one of the Vice Presidents of Dart
Industries.

Ruth enjoyed scrapbooking and managing the family history and genealogy. She was
an avid reader and enjoyed her many adventures traveling in retirement. She traveled
to and lived in many different states including California, Pennsylvania, and Nevada.
She also traveled to Denmark on vacation. She loved going to Atlantic City, NJ and
would enjoy spending time in the Casinos in celebration of her birthday and other
holidays.

Ruth was a devoted mother and grandmother and took pride in her family and their
accomplishments.

She was loved by her family and friends and will be greatly missed.
Funeral arrangements are private and under the direction of Gallaway & Crane Funeral
Home, Inc, 101 South Finley Avenue, Basking Ridge, New Jersey 07920. For further
information, please visit www.gcfuneralhome.com
Share Your Memory of
Ruth