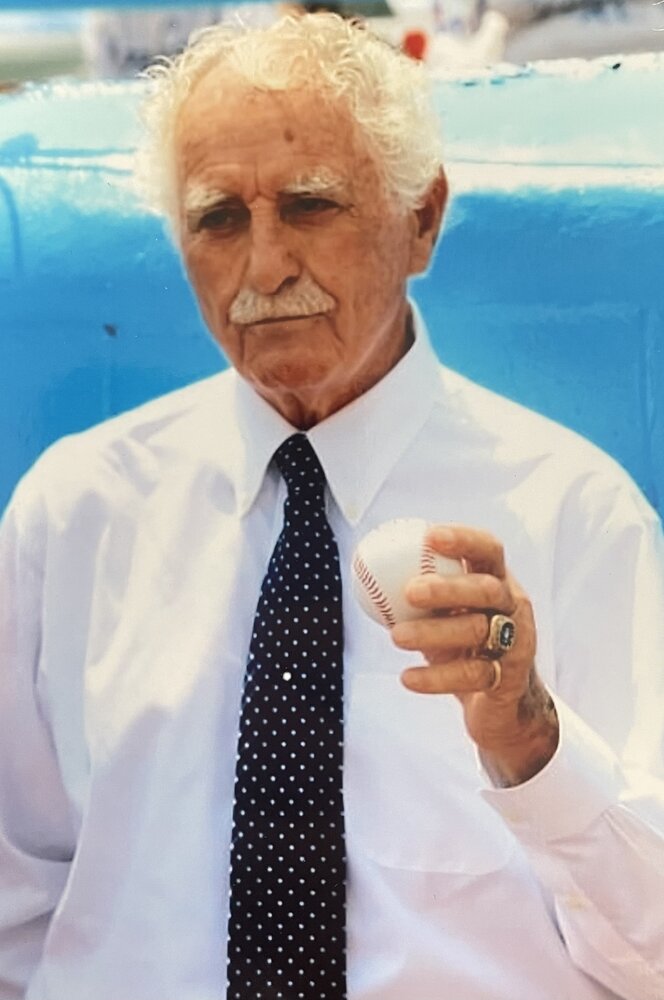 Obituary of Donald B Kohler
On Tuesday, August 2, 2022, Don Kohler of Asbury, NJ, passed away peacefully at home, surrounded by family. He was 93.
Born on May 24, 1929 in Summit, NJ. Don was the only child of Helen and Fred Kohler. He graduated from North Plainfield High School and Seton Hall University where he earned a Bachelor's Degree in Physical Education.
Don was drafted by the New York Yankees as a left -handed pitcher in 1947, right out of high school. He went on to play Minor League Baseball for 8 years. After leaving minor league baseball, he managed the Dreier's Semi Pro Baseball Team, in Plainfield, NJ. During this time, Don also owned and managed Kohler's Sunoco in Plainfield NJ, until eventually returning to baseball as a Major League Scout.
Don scouted for the Cleveland Indians and the Milwaukee Brewers, where he earned a World Series ring, before joining the Major League Scouting Bureau where he served for over 25 years. Don was assigned to scout primarily in New York, New Jersey and Maryland, where he conducted many pro ball tryouts for prospects.
Don was selected for the North Plainfield High School Sports Hall of Fame and the Union County Baseball Hall of Fame. In 2013, he was inducted into the Major League Scouting Bureau Hall of Fame. He earned the honor of Major League Scouting Bureau Scout of the Year twice.
In addition to his passion for the game of baseball, Don had a life -long love of classical music. The son of two talented musicians, he was a classical music afficionado and scholar. He spent many happy hours listening to Symphonies, Concertos and Operas on his stereo and finally his laptop. His last moments were accompanied by Beethoven's 7th and 9th Symphonies.
Over the years, Don also enjoyed going to many professional car races; as well as driving and tinkering with sports cars and motorcycles. Many will also remember his love for dogs, especially the numerous Rhodesian Ridgebacks he raised and trained.
Don was well known for his great love for and loyalty to family. Family was the center of his world, especially his wife Joann, to whom he was dedicated. He truly lived by his mantra of "family comes first." He was also known for his many acts of kindness and compassion to his friends, often quietly visiting, consoling and assisting those in need.
Don is survived by Joann, his wife of 69 years, daughter Kim Dial of Basking Ridge, sons Keven Kohler of Asbury, NJ, Kerry Kohler of Tewksbury, NJ, Kelly Kohler and wife Lynne of Gillette, NJ, Kristofer Kohler and wife Doreen of Allendale, Nj., 11 grandchildren and 6 great grandchildren.
To send flowers to the family or plant a tree in memory of Donald Kohler, please visit Tribute Store
Visitation
10:00 am - 12:00 pm
Monday, August 8, 2022
Gallaway & Crane Funeral Home
101 South Finley Avenue
Basking Ridge, New Jersey, United States
Funeral Service
12:00 pm - 12:30 pm
Monday, August 8, 2022
Gallaway & Crane Funeral Home
101 South Finley Avenue
Basking Ridge, New Jersey, United States
Entombment
12:45 pm - 1:00 pm
Monday, August 8, 2022
Somerset Hills Memorial Park
95 Mt Airy Road
Basking Ridge, New Jersey, United States
Share Your Memory of
Donald