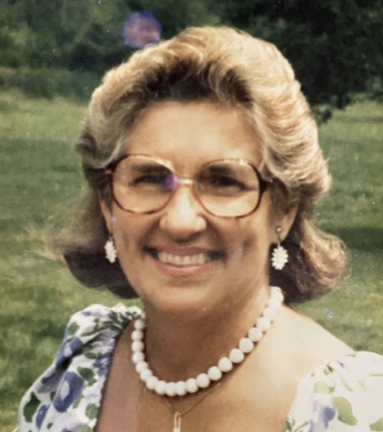 Memorial Service
11:00 am - 12:00 pm
Saturday, July 23, 2022
St. John On The Mountain Church
379 Mt. Harmony Road
Bernardsville, New Jersey, United States

Get Directions
Obituary of Patricia Moody
Educator and community leader Patricia Moody died peaceably on Friday July 1, after a brief
illness, surrounded by the love that she shared with everyone she met throughout her 93 years.
Born 1929 in Plainfield NJ the third child of Marguerite and Clinton Ivins, she was a 55 year
resident of Bernardsville NJ, and divided her last years between Craddockville on Virginia's
Eastern Shore and the continuing care retirement community of Fellowship Village in Basking
Ridge NJ. As a girl, she attended the Hartridge School in Plainfield NJ, and graduated from Smith
College in Northampton, MA with a Bachelor of Arts degree in 1951. She married her college
sweetheart Sidney C. Moody, Jr. in 1952. After his death, she committed to Collins "Schatzy"
Snyder in 2013. She is survived by her son Michael of Wayne NJ; her son Clarke and his wife
Betsy of Key Largo FL and Jamestown RI; granddaughter Brett Moody Bodnar, husband Chris
and great-granddaughters Charlotte and Eloise of Norwalk CT; granddaughter Brookes Moody
of Newport RI; and granddaughter Kelsey Moody of New York City. Mrs. Moody was
predeceased by her first husband of 60 years, and her partner of 8 years.

Mrs. Moody was perhaps known best as a teacher at the Peck School in Morristown NJ, which
she served over a span of 50 years, first as history and athletics teacher from 1952-1955, and
then as a fifth-grade homeroom teacher from 1967-1993. In this latter role, she shepherded
three generations of students through the intricacies of English grammar—with the help of her
characters Boris and Beulah—ancient history, and the awkwardness of pre-adolescence.
Perhaps most essentially, she instilled a love for learning, an understanding of the importance
of high expectations, and the discipline needed for the successful pursuit of wisdom. She left
indelible marks on most of her students, many of whom would approach her later in life to
thank her explicitly for the scholastic foundation and tools for learning they had received from
her. It was said that Pat Moody was the embodiment of the school's motto: Disciplina Ad
Vivendum," or "Learning for Life."

Her dedication to education did not end at the classroom door; indeed, she was active in
education in a variety of roles throughout her adult life. She developed a curriculum and
delivered lectures on the history of Western Art to students of the Morris County Public School
district from 1958-1962. She realized that there was an insufficiency in the schooling
opportunities in her hometown of Bernardsville for what is now called pre-K, so in 1961,
together with a friend, she started the St. John's Nursery School and served on its board for six
years. Last year, as the school celebrated its 61 st year of operation, she returned to be the
keynote speaker at the commemoration. As her children went through their early elementary
school years, she joined the Bernardsville PTA and served as president from 1964-1966. After
her retirement from active teaching, she became a member of the Board of Trustees of the
Peck School, where she served from 1996-2004, as a voice for the interests of her former
colleagues. During her tenure as a teacher, she was active in a variety of educational
organizations such as the National Association of independent Schools and its NJ chapter. It was
through this organization that she reconnected with her own educational history and served on
the Board of Trustees of her alma mater the Wardlaw+Hartridge School of Edison.
Pat Moody's service to her community took on many leadership manifestations beyond the
educational. She was an early voice advocating for a more equal place for women in society,
and was a prominent member of the Junior League of Morristown, demonstrating her
management and organizational skills as the President from 1962-1964. She worked on the
Board of Directors of the Somerset Hills Community chest from 1966-1974 and chaired the
Advanced Gifts Committee of that organization through 1981. She also found the time to Chair
the Volunteer Woman's Association of the Morristown Memorial Hospital ("Candy Stripers")
from 1964-1966. She dedicated over 50 years to the Pearl S. Buck Foundation, sponsoring the
education and development of girls in East and Southeast Asia. Importantly, as a friend of Bill
W., Pat M. helped mentor countless others on her 50-year path of recovery.
Never one to hide her light under a bushel, Pat Moody was legendary for her laugh, an
infectious bold and brash expression of joy and happiness that enlivened many a social
gathering. She was not shy about expressing opinions, but always took the time to hear what
others had to say. In her "copious spare time," she spent many weeks a year sailing with her
husband Sid on their sailboats "Dixie" and later "Cleartime," cruising the coast of New England,
the Great Lakes and, in the winter, the Bahamas. She was an inveterate gardener, a member of
the Garden Club of Morristown, and was never happier than hunched over her perennial
garden with a trowel in hand tending to her flowers. She played a solid game of tennis
throughout her life, most often at the Somerset Lake and Game Club. Services will be held at
the Episcopal Church of St. John on the Mountain at 11AM on Saturday July 23. In lieu of
flowers, contributions in Pat Moody's name may be made to Planned Parenthood-Morristown
Health Center.
Share Your Memory of
Patricia