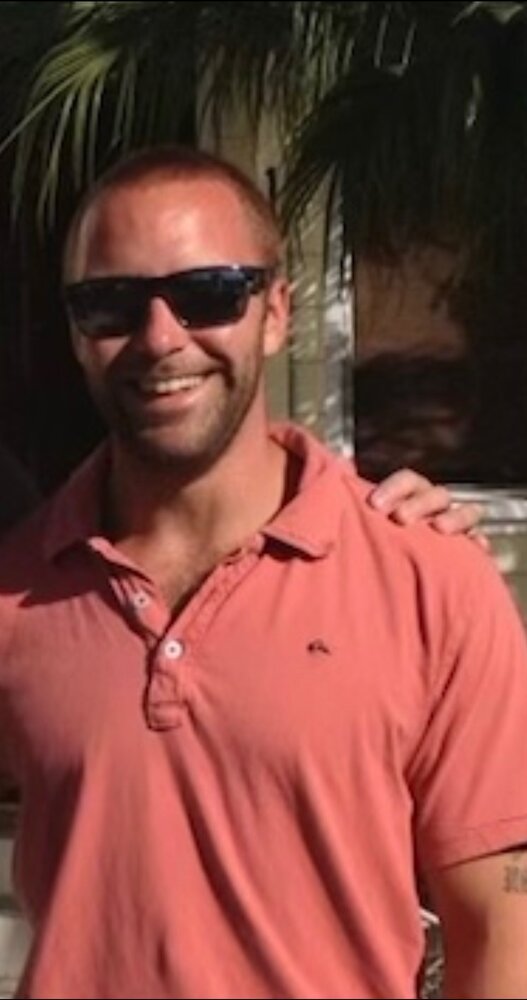 Visitation
2:00 pm - 4:00 pm
Thursday, June 9, 2022
Gallaway & Crane Funeral Home
101 South Finley Avenue
Basking Ridge, New Jersey, United States
Visitation
6:00 pm - 8:00 pm
Thursday, June 9, 2022
Gallaway & Crane Funeral Home
101 South Finley Avenue
Basking Ridge, New Jersey, United States
Funeral Mass
11:00 am - 12:00 pm
Friday, June 10, 2022
St. James Church
184 South Finley Avenue
Basking Ridge, New Jersey, United States
Obituary of Kevin Patrick Bogle
Kevin Bogle was simply the best. He was the life of the party and ensured everyone felt welcome and included. He had an impossible wit that was only matched by his quick and infectious laugh. He was truly multi-dimensional, a Marine, a surfer, a devoted son, brother,uncle, and the truest of friends, and so much more. Kevin graduated from Ridge High School in 2004 and then attended Pennsylvania State, graduating in 2010 with a BS in Criminal Justice. During his freshman year of college, Kevin joined the Marine Corps Reserves. He went on to serve for six years in the infantry, holding multiple leadership positions including fire team leader and detachment leader.
As a Marine, Kevin attended boot camp and then the School of Infantry, graduating as an 0311 rifleman – a true salt of the Earth warrior, the selfless patriot upon which American greatness is built. He was then assigned to Company G, 2nd Battalion, 25th Marines and was subsequently activated in 2008 in support of Operation Iraqi Freedom. Kevin deployed as a rifle platoon fire team leader from September 2008 through April 2009, serving in Iraq's Al Anbar Province. While deployed to combat, he led and mentored his fellow team members while operating in the challenging area between the Iraq, Saudi, and Syrian borders. In the summer of 2010, Kevin was again activated, this time for peacekeeping and humanitarian operations in Ulan Bataar, Mongolia. Kevin expertly led a composite unit formed from Marines and multinational soldiers drawn from six countries in support of Operation Khann Quest. Kevin's final deployment came in the summer of 2011 when he was activated to support humanitarian operations in Mozambique, Africa. Kevin led an eight-Marine detachment, providing security for US Navy doctors researching an epidemic and treating gravely ill Mozambicans. In six years of noble service, Kevin achieved the rank of corporal and was honorably discharged in March of 2013.
In the summer of 2014, seeking new adventures, Kevin moved to San Clemente, California. He took to Southern California like a fish to water, resuming and then excelling as a surfer, making many friends, and infrequently wearing a shirt except when forced to at work. While Kevin's deep tan was a testament to his love of the West Coast, he never forgot his New Jersey roots, ever ready with a sharp word backed by an indomitable spirit (and fast hands) if someone stole a wave or started a fight with one of his friends. Professionally, Kevin translated his Marine leadership experience into positions of increasing responsibility, primarily in commercial logistics and operations throughout Orange County. His most recent role was as a Director of Operations at OceanX, a third-party logistics company in Irvine. Despite his short time there, his coworkers uniformly praised his tireless work ethic and boundless enthusiasm.
Kevin was most cherished as a friend and brother. He was magnanimous and selfless. His unrivaled skill was to walk into a room and to fill it with light and laughter and to lift-up everyone around him. He had a way of effortlessly making everyone feel like the most important person in the room. His charm combined humility with unending jokes and an infectious laugh. He put everyone at ease and quickly turned them to his cause, which was mostly merriment, but on occasion - mischief. He was an exceptional problem solver and had a devious way of being simultaneously the life of the party and the best listener – intently attuned to his friends' problems, offering them advice, and implementing solutions. He had a natural ability to turn mountains into molehills through optimism and laughter – his quick wit made you realize that no problem was insurmountable. Despite his time as a Marine, he remained sensitive and empathetic – always ensuring that everyone felt welcome and a genuine part of his team. The greatest testament to his character is that one and all who met him wanted to be Kevin's friend.
He had an effortless magnetism and so regularly crippled his friends with breathless tear-streaked laughter that they couldn't wait to hang out with him again. Kevin was keenly observant, quickly assessing a person's personality and disarming even the most solemn or reserved – making friends with people from every walk of life with humor and humility. Kevin was serious about serving his country, family, and friends, but never took himself seriously – the perfect mix of dedication and affability. No matter his own challenges, he always showed up for people and made their worlds better for it.
Kevin was a man always in motion. He loved traveling and adventure and spent a year in Perth, Australia exploring, working, and growing. He was a natural athlete who would do a handful of push-ups and pull-ups and soon beat friends on much stricter regimens. He dominated football, wrestling, and lacrosse in high school and later, surf spots throughout Southern California. He loved the outdoors and hiking, and he had a particular way with animals, especially dogs who were immediately drawn to him and always seemed to love him twice as much as anyone else.
Kevin could not bear a down moment and filled every free moment with activity. He could make riding a Ruckus motorcycle to check the surf a must-do activity and routinely turned that initial event into a weekend-defining adventure. Everyone wanted to join him, whether to surf or hike or just share stories around a firepit. Kevin was the best amongst us – someone who brought out the best in everyone, who had an infectious optimism, and whose energy and enthusiasm made the mundane into the unforgettable. Kevin's kindness and love knew no bounds. He was the best son, brother, uncle, Godfather, friend, co-worker, and Marine anyone could ask for. To say he will be missed is an impossible understatement. It bears repeating that he was simply the best amongst us, and his passing is an irreparable loss to each of us who had the gift of knowing him. Godspeed Kevin Patrick Bogle, until we all meet again.
Kevin leaves behind many who love him and will do so forever. His mother Lorraine, his father Robert, his loving brothers and sisters; Robert and his wife Barbara, Laurie (Missy), Kristie, Bryan and his wife Ashley, and Jeff. His loving nieces and nephews; Robert Jr, Gregory, Victoria, Kyla, Keenan, and his nephew and Godson Tommy. He also leaves behind his loving and supportive girlfriend Katie Ngo as well as countless other close family friends, too many to list.
Kevin's funeral mass will be held on Friday June 10th at 11:00 am at Saint James Roman Catholic Church located at 184 South Finely Avenue, Basking Ridge, New Jersey. Repass to follow at the Grain House Hunt Room, from 12:00 to 4:00 pm. His wake will be held Thursday June 9th from 2:00 to 4:00 pm. and 6:00 to 8:00 pm at the Gallaway and Crane Funeral Home at 101 South Finely Avenue, Basking Ridge, New Jersey
Share Your Memory of
Kevin