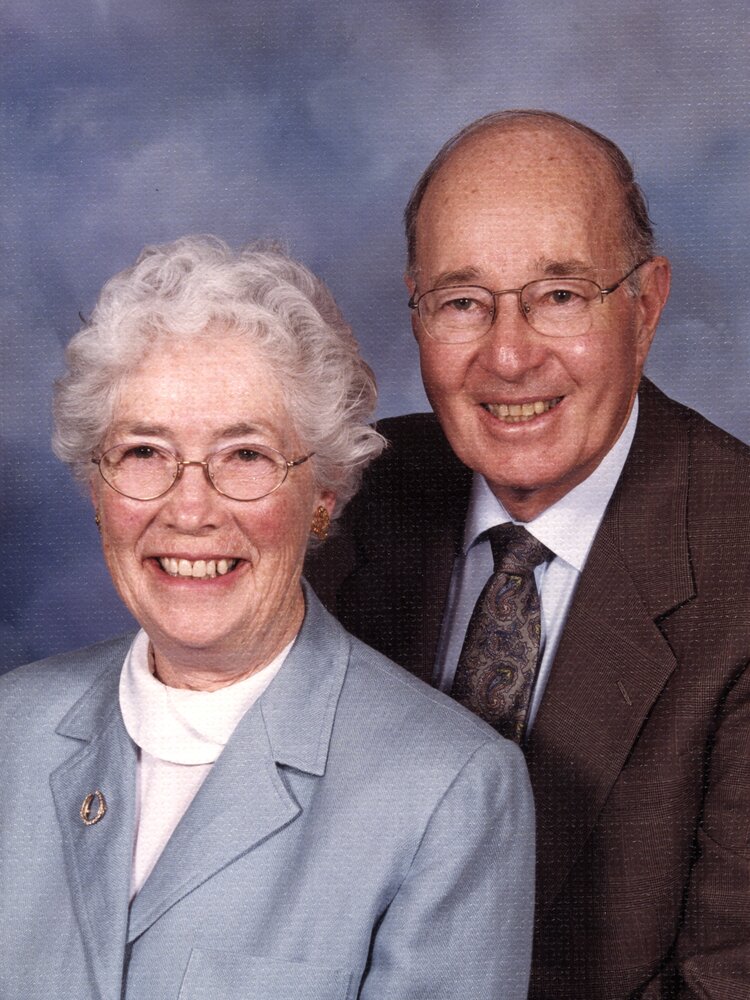 Obituary of Paul F Mallon
Helen Ross Mallon, 93, died on Oct. 7, 2021 and her husband of 71 years, Paul F. Mallon, 96, died four months later on Feb. 26, 2022. The two were residents of Basking Ridge for more than 50 years.
Helen, who retired as program coordinator from the Bernards Township Library in 1990, was long affiliated with the library, serving as president of the board of trustees and chairman of the building committee. In 1976, Helen developed the library's innovative Leisure Learning program, which for more than 20 years provided retirement education and enrichment for area residents. In recognition of that effort, Helen in 1991 was the recipient of the Millicent Fenwick Award for leadership and service from the Somerset Hills YMCA. Earlier, she was the first woman to receive the Distinguished Service Award from the Somerset Hills Jaycees.
When she and her husband moved to Fellowship Village in 1996, she served many years as chair and co-chair of the Fellowship Village Library Committee. She also served on the residents' council, including as president.
Helen grew up outside of Reading, Pa., graduating from Albright College and the Reading Hospital School of Nursing in 1950. In the 1960s she worked with the N.J. State Commission for the Blind and Visually Impaired and the Somerset Hills Red Cross, where she was a member of the board, to create a local chapter to record books for the blind. She was a member of the board of directors for the Somerset Hills Adult Daycare Center, and served as an elder, deacon and moderator of the board of deacons of Basking Ridge Presbyterian Church.
Paul, who was born in Philadelphia, spent a major portion of his youth in East Orange, N.J. At the age of 17, he volunteered for Army service and was assigned to the 86th Infantry Division. Sent overseas to Europe in late 1944, he saw combat in Germany with both the First and Seventh U,S. Armies. In July 1945, he was redeployed to the Philippines in preparation for the invasion of Japan and subsequently served for a number of months as training cadre for the Philippine Army.
After graduating from the University of Pennsylvania in 1950, Paul began his banking career with Fidelity Union Trust Co., rising to the position of senior vice president of commercial loans before leaving to join the First National Bank of Central Jersey, where he served as president, chairman and CEO. He retired in 1990.
Paul served two terms on the Bernards Township School Board, including as its president in 1971-1972, and was a member of the Bernards Township Committee from 1977 to 1980, serving as deputy mayor in his final year. Other civic commitments included service as chair of the Somerset Medical Center Board of Trustees, president of Ridge Oak Senior Housing, chairman of the Somerset County United Way, a member of the executive board of the N.J. Bankers Association, and fundraiser on numerous campaigns to benefit the Watchung Area Council of the Boy Scouts and the Bernards Township YMCA. In retirement Paul served for several years as treasurer and a member of the executive board of the Matheny School and Hospital and, following his move to Fellowship Village, organized its residents' council and was the council's first president.
Paul received the distinguished citizen award from the Watchung Area Council of the Boy Scouts in 1985, and he and Helen were jointly honored in 1991 with the Charles and Jane Englehard Award for Outstanding Service to the United Way of Somerset County.
Survivors include two children, Stephen Mallon (Helen), of Wyndmoor, Pa., and Linda Mallon (John Mueller) of Washington, D.C.; five grandchildren and one great-grandchild; and two sisters.
A joint memorial service will be held at Basking Ridge Presbyterian Church on Saturday, May 7, at 2 p.m. For further information, or to light an online condolence message please visit www.gcfuneralhome@gmail.com
In lieu of flowers, please consider a donation to the Lake George Land Conservancy, 4905 Lake Shore Dr., PO Box 1250, Bolton Landing, NY. 12814, or Doctors Without Borders, PO Box 5030, Hagerstown, Md. 21741.
To send flowers to the family or plant a tree in memory of Paul Mallon, please visit Tribute Store
Memorial Service
2:00 pm - 3:00 pm
Saturday, May 7, 2022
Presbyterian Church Of Basking Ridge
1 East Oak Street
Basking Ridge, New Jersey, United States
Share Your Memory of
Paul