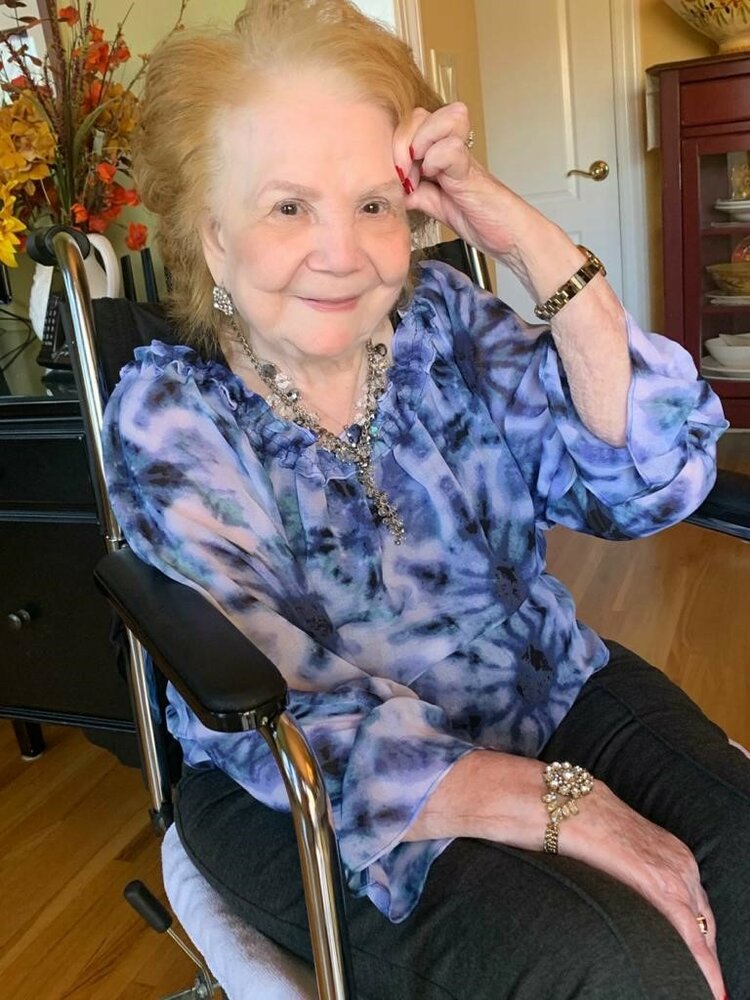 Visitation
9:00 am - 11:30 am
Saturday, June 12, 2021
Gallaway And Crane Funeral Home
101 South Finley Ave
Basking Ridge, New Jersey, United States
Funeral Mass
12:00 pm - 1:00 pm
Saturday, June 12, 2021
St. James Church
184 South Finley Avenue
Basking Ridge, New Jersey, United States
Entombment
1:15 pm - 1:30 pm
Saturday, June 12, 2021
Somerset Hill Memorial Park Cemetery
95 Mount Airy Road
Basking Ridge, New Jersey, United States
Obituary of Renee J. Cabaleiro
It is with broken hearts that we announce the passing of our beloved wife and mother, Renee Julia Cabaleiro Batista. Renee passed on June 9, 2021 at the age of 94 years and 9 months. This amazing woman was a devoted and loving wife to her husband, Yodalio Cabaleiro, to whom she was married for 66 years, and mother of 3 children that she adored with all her heart and soul.
Renee was born in Cuba in 1927 and was 1 of 8 brothers and sisters. After losing her father at an early age, Renee opened a sewing academy at the age of 16 to teach young women how to sew in order to financially help her family of 9 and pay for school. Growing up poor in Holguin, Cuba, she studied hard to become an accountant and worked diligently to progress in her field, earning the respect of her peers and superiors. Renee and Yodalio had 3 children and were lucky to flee the atrocities of communist Cuba as a family in 1969. They left behind their families in order to offer their children a chance to live in freedom and thrive in a free society. Neither spoke English when moving to this country. However, they quickly learned, and together they worked to make a new life in the United States, Yodalio as a family physician and gastroenterologist, and Renee as his Practice Manager. She instilled work ethic and dedication in her children, guided her children to become self-sufficient, and led us all by example. Working more than full time, we all had 3 square meals a day, clean clothes and loved dearly. How did you do it mom?
Anyone who ever met our mother instantly loved her. She oozed charm, warmth and kindness, never had one bad word to say about anyone or anything, and enjoyed a simple life of simple pleasures. Her spirit was kind, gentle, loving, nurturing, tolerant, honest and reliable. This was true throughout her life and is accentuated now with just how much we miss her every day. She was one of a kind. Special. Lovely and loved.
As mom got older, no matter the state of her health, when asked "how are you?" She said "bien!" Meaning, I am well!. Her desire to live was awe inspiring, even in her worst days she found pleasure in just being alive and with family.
Renee is survived by her husband, Dr. Yodalio Cabaleiro, her 3 children, Yodalio Cabaleiro Jr, Dr. Renee Julia Cabaleiro Arias, and Terry Malanda. Her son in laws, Paul Joseph Arias and Edward F. Malanda. Her grandchildren, Paul Jonathan Arias, Kevin Scott Arias, Brandon Edward Arias, Edward Alexander Malanda and Christina Alexis Malanda, Yodalis Danielle, GG Allie Danielle, Yanelis Rempusheski and husband RIch Rempusheski, GG's Sophia Bella Rempusheski, Skylar Josephine Rempusheski, daughter in law Nancy Cabaleiro, brother Raciel Jones Batista and wife Pilar Sanchez, nephew Raciel John Batista Sanchez and wife Ester Batista, grand niece and nephew Miriam and Jorge Batista,, sisters Rebeca Batista, Riselda Batista, Roselia Batista. Her caregiver, who became her best friend, Gloria Souza.
Our mother will forever live in our hearts and memories. She is with us, watching over us, and in Heaven, we know that she is just as beautiful in Heaven, and even much more so, than she was in this life. While every day it hurts that you are not physically here, we are lucky to have this pain, for it speaks to how much you were loved and how lucky we were to have been blessed with you. We love you Mami.
Share Your Memory of
Renee