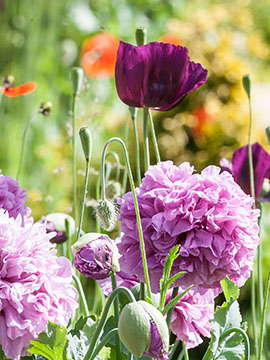 Obituary of Barbara H Swan
Please share a memory of Barbara to include in a keepsake book for family and friends.
Barbara Hoffman, known as Bobbie to her family and many friends, lived a full 95 years of life. She was born in 1926, in New York City, a fitting birthplace. Even though she would spend most of her lifetime in New Jersey, Bobbie remained indelibly a City girl, with a zest for living and an appreciation of beauty and accomplishment that could only come from Gotham roots. Bobbie adored her mother Edna Sauer Hoffman, and delighted in making her proud. For a young woman in the Hoffman household in those Jazz Age years, that meant excelling at cooking, decorating, entertaining, and athletics like tennis and golf. Bobbie initially attended the Dalton School in New York City before graduating from the Kent Place School in Short Hills, New Jersey, an institution with which she and her family were long affiliated. By her teenage years Bobbie had become what F. Scott Fitzgerald in the Great Gatsby called a golden girl. Lithe and beautiful, memorialized in her Kent Place School yearbook for 'best hair,' it was as if she had stepped out of the sun. Bobbie went on to graduate from Bradford Junior College in Haverhill, Massachusetts. Subsequently, she joined the Mad Men era when she moved to New York City's Barbizon Hotel—the "Dollhouse"—to attend the Katharine Gibbs School. Living and working in the reflection of the other glamorous denizens of the Barbizon like Grace Kelly and Lauren Bacall, Bobbie was in her natural element. Photographed together with a handsome naval officer at the Stork Club, Bobbie soon tied the knot with the lucky lieutenant, and they moved to New Jersey to raise a family. Bobbie gave birth to two daughters—Jacqueline Van Cleve Hinshaw, of Mendham, New Jersey, and Kathryn Van Cleve Kuhns, of Greenwich, Connecticut—and took to focusing on what became her highest calling. She had been a great daughter, but she became an even better mother. The highest compliment one can pay Bobbie is to simply observe the truth: her two daughters did their best to emulate her, and would do anything for her. Her days as a mother were full but Bobbie was nothing if not well-rounded. An avid sportswoman, bridge player and dancer, Bobbie joined, and became a long-time member of, Baltusrol Golf Club and the Short Hills Club. Bobbie's life was not all clear sailing. She encountered her share of shoals and rocks along her chosen course. When times were tough, Bobbie did what other women in similar situations in those days did to make ends meet—she went to work at Lord & Taylor. She never allowed any difficulty, no matter how great, to interfere with what she viewed as her most important work: her family. Not only a devoted mother, Bobbie also became an equally dedicated grandmother. She doted on her four grandsons: Josh Hinshaw; Cameron Hinshaw; Casey Kuhns; and Lieutenant J.G. Dylan Kuhns. Her great granddaughter, Riley, born in 2019, came just in time to make her a happy great grandmother as well. The joy Bobbie derived from daughters, grandsons and a great granddaughter helped offset the sadness from outliving her men—Bobbie was pre-deceased by her former husband Jack Van Cleve and husband of 35 years Tom Swan—and dozens of friends. Lucid all her life, Bobbie refused to be melancholy. Like Gatsby, she focused on the green light that beckoned from the far shore, insisting on pushing against the current as she peered ahead. She was reading a book the day she died.
To send flowers to the family or plant a tree in memory of Barbara Swan, please visit Tribute Store
Graveside Service
11:00 am - 11:30 am
Tuesday, May 25, 2021
Fairview Cemetery
1100 E Broad St
Westfield, New Jersey, United States
Share Your Memory of
Barbara