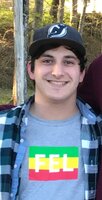 Kevin T von der Linde
Kevin von der Linde, beloved son of Elizabeth Law and Peter von der Linde, passed away at his
home in Nashville Tennessee at age 27 on March 12, 2023. Kevin was born in St. Petersburg
Russia and adopted by Elizabeth and Peter in 1996. He grew up in Basking Ridge and attended
Ridge High School. His passions included skateboarding, photography, film making and
snowboarding. Surviving Kevin are his mother and father, brother Eric, sisters Laura and Sarah
and his grandmother Margaret von der Linde.

A memorial service will be held at St. Mark's Episcopal Church in Basking Ridge NJ at 3 pm on
Sunday March 19 th . In lieu of flowers, the family asks that a donation be made in Kevin's name
to Community in Crisis at www.communityincrisis.org , a local charity that provides outreach
and assistance to people navigating substance use and mental health crises.