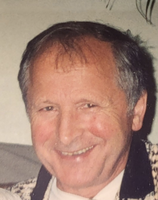 Bela Gombar, Sr.
Bela Gombar Sr., 83, of Basking Ridge, New Jersey, passed away on Monday November 29, 2022, peacefully at home.
Visitation will be held at Gallaway and Crane Funeral Home, 101 S. Finley Ave, Basking Ridge, on Monday December 5, 2022 from 4 pm – 6pm. Funeral Mass will be held at St. James Catholic Church, 184 S. Finley Ave, Basking Ridge, on Tuesday, December 6, 2022 at 10 am, and will be officiated by Reverend Monsignor Sylvester J. Cronin. The burial will follow at Holy Cross Cemetery, 145 Mt. Airy Rd, Basking Ridge. Immediately following the burial, a celebration of life luncheon will be held in the auditorium of the St. James Church.
Bela was born in Fony, Hungary to Paul and Margit Gombar on November 28, 1939. He was the proprietor of Bela's Upholstery and worked as an upholsterer and interior decorator for 53 years. Bela was a devout Catholic and read the Bible daily. When he wasn't working, Bela enjoyed home renovations, fishing, skiing, and spending time with his beloved grandchildren and friends.
He is predeceased by his wife, Zsuzsanna Gombar. He is survived by his children Bela Gombar Jr. and Amy Margaret MacDonald (Gombar), son-in-law Mark MacDonald, and grandchildren Jay, Devon, Landry, and Paiden.
Memorial donations may be made to St. Louis Children's Hospital Foundation P.O. Box 955423 St. Louis, MO 63195-5423 https://www.stlouischildrens.org/giving
Please share a memory of Bela to include in a keepsake book for family and friends.