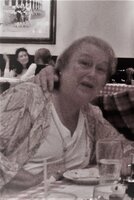 Joann P Apgar
Joann Apgar of Oldwick died peacefully on September 5, 2022 after a short illness. Born in Clinton, NJ to Emma and John Wezel, she grew up on a farm and this led to a lifelong enjoyment of nature and the outdoors.
Joann graduated from North Hunterdon Regional High School in 1957 and shortly after married her husband, George M. Apgar. They settled into his family home and together raised their daughters and travelled extensively. They especially enjoyed Sanibel Island, Fl and Mt. Desert Island, Maine. Joann was able to travel with her family to both places this past year and it brought back wonderful memories.
As a proud G-Ma she always found time for her grandson Tyler and sat bundled up in many cold hockey rinks watching his games. She especially enjoyed this past year as he learned to drive and could chauffer her around to various outings and events.
Joann is survived by her daughter Carol Forstenhausler and her husband Randy, her daughter Holly Eccles and her husband Ed and her beloved grandson Tyler Eccles. She is also survived by her brother Walter Wezel, a sister-in-law Barbara Van Doren, and dear friends Myra Johnson, Barbara Heck, Ellen Chappell, and Mabel Gulick. She is also survived by many cousins, nieces and nephews. Joann was predeceased by her husband George and her parents John and Emma Wezel.
All services will be private. To honor Joann please consider a donation to the Great Swamp National Wildlife Refuge. Both she and George volunteered many hours there and loved this special, beautiful place. A donation can be made to Friends of the Great Swamp at the link below. https://friendsofgreatswamp.org/site/donate