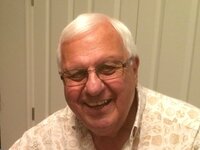 Edgar G Samman
Edgar "Ed" George Samman, at age 84, of Somerset NJ and Cape Coral FL, was born into eternal life on Tuesday May 3 in Somerset NJ. His battle with health issues over the past 2 years exemplified his true strength that he projected his entire life.
Funeral service will be held at St. James Roman Catholic Church, 184 South Finley Avenue, Basking Ridge NJ on Tuesday May 10, 2022 at 10:00 AM with Reverend Monsignor Sylvester J. Cronin officiating. Burial will follow at Holy Cross Cemetery and Mausoleum, 145 Mt. Airy Rd, Basking Ridge NJ. Visitation will be held at Gallaway & Crane Funeral Home 101 S. Finley Ave, Basking Ridge, NJ 07920 on Monday May 9, 2022 from 4:00 – 7:00 pm. For further information, or to leave an online condolence message please visit www.gcfuneralhome.com
Ed was born in Paterson NJ to Benjamin and Ratiba on June 29, 1937. He graduated from Paterson Tech, and went on to earn a certificate in Labor Relations from Amherst College. He lead the New Jersey State Employees Association as Executive Director for many years, and received many accolades in Labor Relations during his successful career. Following his union career, Ed enjoyed running various business with his sons.
After retirement in 1996 he enjoyed Boating, Traveling, and just being with his family.
Ed is survived by his wife, Marjorie of 66 years. Ed and Marjorie are proud parents of three sons and their wives: Edgar J. and Kathie of Cape Coral Fl, John and Josephine of Bedminster NJ, and Gregory and Allison of Basking Ridge NJ. He was a loving grandfather of Kaitlin, Joseph and Michael.
In lieu of flowers, the family prefers donations to be made in Edgar Samman memory to St James Men of Charity, 184 South Finley Avenue, Basking Ridge NJ