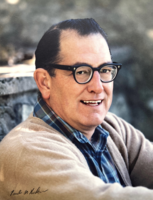 Russell B Mallett, Jr.
Russell Ballou Mallett, Jr. of Basking Ridge, NJ passed away on March 3, 2022. He is survived by his loving wife of 61 years, Nancy Mills Mallett; four children, Russell B. Mallett, III (Ruth), John C. Mallett (Tricia), David M. Mallett (Rhea) and Kathy Mallett; a sister, Barbara Dick; and thirteen grandchildren.
Russ was born in 1934 to Russell and Edith Mallett in Elizabeth, NJ, where he was a hard-working, energetic and sometimes mischievous boy. He shared stories about the joy of standing over the railroad tracks to let the train smoke blow in his face and the many life lessons he learned helping his grandfather, Howard Moore, a mason contractor. He brought into adulthood experiences and lessons on the importance of a loving and caring family during difficult times.
After graduating from Elizabeth's Jefferson High School, he studied accounting at Lehigh University, graduating in 1956. While at Lehigh, Russ was a founding member and president of his fraternity, Delta Chi, where he formed many life-long friendships.
Upon graduation, Russ began his accounting career at Price Waterhouse which was interrupted while he served in the US Army from 1957-1959. Soon after being discharged, Russ met and married the love of his life, Nancy Mills, in 1960. Russ's career continued in private industry in 1972 when he joined US Industries where he had several roles including VP, Internal Audit, and Senior VP and CFO its Health Industries business. In 1985 he joined Triangle Industries as VP, Operations Controller before retiring in 1989.
Russ was civic minded, contributing to the community on the Holmdel, NJ Board of Education and the Bayshore Community Hospital Board. He was an engaged volunteer with Big Brothers, helping young adults develop skills and succeed.
Russ brought energy and enthusiasm to many interests which he shared with his children and grandchildren including bowling, golfing, fishing, and of course the Yankees. Spending time at Lake Winnipesaukee, NH, with family and friends was another pleasure of his. Russ especially enjoyed teaching Gin Rummy to newcomers – especially his grandchildren – where his number one rule was "Never speculate!" Russ was a self-taught handyman who enjoyed chores, repairs around the house and caring for the yard.
Russ was a loving and caring man who always rooted for and helped the underdog. He will be missed by the many family and friends who he touched during his life.
A service in Russ's honor will be held at the Basking Ridge Presbyterian Church, 1 East Oak Street, Basking Ridge, NJ, on March 20, 2022 at 2:00pm
In lieu of flowers, a donation in Russ's honor may be made to the Innocence Project (www.innocenceproject.org) or Big Brothers Big Sisters (www.bbbs.org).