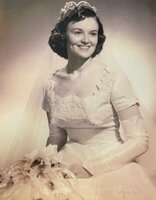 Audrey Medway
Audrey Medway, 86, of Basking Ridge, NJ passed away peacefully on Monday, February 21, 2022 at Inglemoor Rehabilitation & Care Center, Livingstion, NJ. Audrey was born in Jersey City, NJ on June 7, 1935. She moved to Basking Ridge, NJ with her husband Adam where they lived most of their life and raised their family.
Audrey loved animals; she loved vacationing in Puerto Rico and Long Beach Island. She was an avid gardener in her free time and loved spending time raising her children.
Audrey is survived by her six children; Maryalice Raushi and husband John of Morristown, Adam Medway, Jr. of Cherry Hill, William Medway and wife Mariann of Basking Ridge, Samuel Medway of Basking Ridge, Evan Medway and wife Rosie of Tewksbury, and Nell McBride and husband William of Reno, NV. Her six grandchildren Melissa, Alexander, Sebastian, Nathaniel, Penelope, and William.
Audrey is predeceased by her loving husband Adam D. Medway in 2009. Her two children Patience Medway in 2021, and Michael Medway in 1983. Also, predeceased by her brother Dr. Gerard Hansen.
Visitation will be held on Wednesday, February 23, 2022 at Gallaway and Crane Funeral Home, 101 S. Finley Ave, Basking Ridge, NJ 07920 from 4:00-7:00pm. Funeral Mass will be held for Audrey and her daughter Patience on Thursday, February 24, 2022, 10:00am at St. James Church, 184 S. Finley Avenue, Basking Ridge, NJ 07920. Burial will be at Holy Cross Cemetery, Basking Ridge. For further information, or to leave an online condolence candle please visit www.gcfuneralhome.com