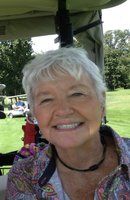 Charlene A. Waters
Charlene A. Waters of Port St. Lucie, FL, and formerly of Branchburg, NJ, passed away peacefully surrounded by family on November 28, 2019. Born on February 8, 1938 and raised in Utica, NY, Charlene was a beloved mother and grandmother.
She was an avid golfer and longtime member of Raritan Valley Country Club in Bridgewater, NJ, and the Legacy Golf and Tennis Club in Port St. Lucie, Florida. An all-around athlete, Mrs. Waters was a lifeguard in her early years, enjoyed skiing and tennis and competed on the All-Weather tennis team in Bridgewater, NJ, for many years. Mrs. Waters served as a volunteer for the Somerset Medical Center and was president of the women's auxiliary. Known for her amusing wittiness and high spirits, her favorite pastime was playing golf with her children, grandchildren and her dear friends.
Mrs. Waters is survived by her husband of 60 years, Donald P. Waters, 4 children Michael Waters (Linda), Daniel Waters (Tracey), Maura Ballard (Robert Jr) and Patrick Waters (Shannon). She will be dearly missed by her 9 grandchildren Kevin, Brandon, Caitlin, Kelly, Brienna, Brendan, Colin, Ryan and Reagan Waters, and her 3 step-grandchildren Meredith Alvarez (Eric), Robert III, and Daniel Ballard.
Arrangements are being made by the Gallaway & Crane Funeral Home 101 S Finley Ave in Basking Ridge, NJ. Visiting hours will be held on Wednesday, December 4, 2019 from 9:30 – 11:30 am. A mass and celebration of life will be held at the St. James Church 184 S Finley Ave in Basking Ridge, NJ on Wednesday, December 4, 2019 at 12:00, followed by interment at the Somerset Hills Memorial Park and Chapel in Basking Ridge, NJ.
In lieu of flowers, a donation may be made in her memory to the organization "I am ALS" - linked as www.IamALS.org/donate