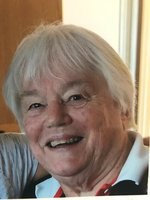 Barbara Ann Zellman
Barbara Ann Zellman went to be with the Lord at the age of 89 Saturday, November 2nd surrounded by family and loved ones. Barbara had a gift that touched each of us. That was her way of reaching out through notes to let you know she was thinking of you, making you feel loved and cared about. There were the annual birthday and anniversary cards to friends, family and extended friends and family. We will all miss receiving our birthday card from Barbara.
Barbara was born on April 20, 1930 in Millington NJ to Ray & Helen Compton. She had three siblings, the late Raymond Compton, Jr, the late Doris (Compton) Seeley and Clifford Compton.
Barbara married Ernest Zellman in December 1948 and had two children, moving to Bernardsville in 1962 where she lived out her life.
Barbara was an active member of the Millington Baptist Church all of her life, serving as a Sunday School teacher for 68 years, deaconess and church secretary. She held children's Bible clubs in her home with the neighbor kids. She was a devoted wife, mother and grandmother.
She was predeceased by her husband Ernie and is survived by her two children: Lori (Zellman) Keiffer of Amesbury MA, Keith Zellman and his wife Melissa Buchanan of Gloucester MA; five grandchildren: Jeremy and his wife Amanda Keiffer, Christopher Keiffer and Caitlin Mailly, Danielle Zellman, Mara Zellman and Luke Zellman; and three great-grandsons: Chase, Henry and Caleb.
A celebration of her life will be held at Millington Baptist Church Saturday, November 9 at 1 PM.
In lieu of flowers, please kindly consider making a donation in memory of Barbara to:
Millington Baptist Church
520 King George Rd,
Basking Ridge, NJ 07920
OR
http://millingtonbaptist.org/give/
Your donation will fund 6 local partners that are living out Jesus' command to take care of the poor and widows.
"But those who hope in the Lord will renew their strength They will soar on wings like eagles; they will run and not grow weary, they will walk and not be faint." Isaiah 40:31