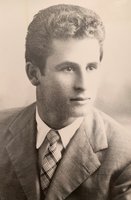 Michele Mennella
Michele "Mr. Mike" Mennella passed away peacefully in his home on Sunday, October 20, 2019.
Mike was born in Naples, Italy on May, 28, 1934 to Gennaro and Cira Mennella. There wasn't much Mike couldn't do! He started working as a Merchant Marine and traveled the world. In 1964 he came to the United States and worked as a barber and learned to make his beloved pizza. In 1970, he opened his first pizzeria in Bernardsville. He later opened two more pizzerias. However he favored his "Buona Pizza" that is still going strong today.
Mike was one of nine children. He is survived by his sons Michael Jr., Mario and his wife Claire, and Vito. Also survived by his daughter Annemari, his granddaughters Miranda and Jenna, and great grandson Lorenzo.
Mike loved to go bowling, make garlic knots, and most of all he loved spending time with his family.
Visitation will be held on Wednesday, October 23, 2019 from 6:00 – 8:00pm at Gallaway and Crane Funeral Home, 101 S. Finley Ave, Basking Ridge, NJ 07924. Funeral Service will be on Thursday, October 24, 2019, 11:00 at Somerset Hills Memorial Park Mausoleum Chapel, 95 Mt. Airy Road, Basking Ridge, NJ 07920. For further information, or to leave an online condolence message please visit www.gcfuneralhome.com