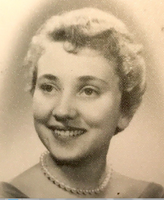 Jean Kerns Robb
Jean Kerns Robb passed in peace Thurs., Oct. 17, 2019 at the age of 82.
Jean is predeceased by her loving husband Jack Kerns. She is survived by her three children Patricia Mullens, Kathleen Howells and husband John, John Kerns and wife Nadine. Jean was a proud grandmother to Jacquelyn Mullens, Jack and Claire Kerns and Kenneth Howells. She is also survived by nieces, nephews, brother-in-law and family patriarch James Gavaghan and other relatives.
She is fondly remembered for her services to the Morristown Junior League, Mansion in May and member of Roxiticus Golf Club. She worked until the age of 70 for her dear friends the Herslow family and will be affectionately remembered by family and friends for playing bridge, traveling, entertaining and a patron of the New York Philharmonic.
She was a graduate of Little Flower High school and Gwyned Mercy college in Philadelphia and resided at Fellowship Senior Living in Basking Ridge, NJ.
In lieu of flowers. Donations can be made to the Alzheimer's Foundation of America at https://alzfdn.org
For more information or to leave an online condolence for the family, please visit www.gcfuneralhome.com