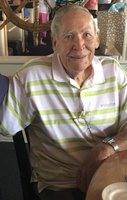 Donald J Kieffer
DONALD J. KIEFFER
83, Long-time Bernardsville resident, Navy veteran, devoted grandfather
Donald J. Kieffer, 83, of Bernardsville passed away on October 13 after long illness.
Don was born in Kearny to William and Mary Kieffer on September 14, 1936. He graduated from Queen of Peace School in North Arlington in 1953, then received a bachelor's degree from St. Francis University of Loretto, PA in 1957.
Don then proudly served in the US Navy as a Lieutenant, assigned first to a Destroyer squadron in the Mediterranean and Caribbean, concluding shore side at what is today Marine Ocean Terminal Bayonne. After leaving the Navy, he worked in investment systems accounting for Mutual Benefit Life in Newark for 25 years, then similar positions at Continental Insurance and CNA Insurance in Neptune, before retiring as a consultant for the Prudential in Newark. He has resided in Bernardsville since 1962.
Don enjoyed many years at the Jersey Shore, especially spending time in the Shore Acres section of Brick Township, where he spent many summers with family, from youth all the way through advanced age. An avid boater and fisherman, his second greatest joy was being out on the water.
His first greatest joy was his family. He is survived by his loving family: Marian, his beloved wife 57 years, a lifelong Bernardsville resident; son Donald Jr. and his wife Julia, also of Bernardsville; and granddaughter Madeline of Morgantown, West Virginia. He was predeceased by one brother and two sisters.
Visitation will be held from 4pm to 7pm on Thursday, October 17, 2019 at the Gallaway & Crane Funeral Home, 101 South Finley Ave, Basking Ridge.
His funeral mass will be held at 10am on Friday, October 18, 2019 at the Church of Our Lady of Perpetual Help, 111 Claremont Rd, Bernardsville. Graveside services will immediately follow at Holy Cross Cemetery, 145 Mt. Airy Rd, Basking Ridge. For further information or to leave an online condolence message, visit www.gcfuneralhome.com.