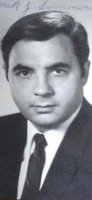 Frank J Summers
Frank John Summers, of Basking Ridge NJ died at Morristown Medical Center on Sunday, October 6th, 2019 surrounded by his family. He was 89 years old.
Mr. Summers was born in New York, NY on March 10, 1930. He graduated from Harrison High School, then joined Air Force and was honorably discharged in 1952. He was a seminarian at the Missionary Servants of the most Holy Trinity in Alabama from 1952-1954, later that year he moved back to New York, where he attended night school at St. John's University and started working as an accountant and met Barbara Buda. The two married in 1955 and had four children. In 1959, he received his BS in Business Administration and became a Certified Public Accountant, then attended St John's University Law School. Mr. Summers worked at several of the Big Eight Accounting firms, including Arthur Anderson, Price Waterhouse and Haskins and Sells where he was Tax Manager. In 1977 he began Summers & Company, a tax specialist firm with offices in the World Trade Center, for 20 years. During his retirement he continued to provide tax consulting to clients.
A devoted Catholic and philanthropist, Mr. Summers served on the Our Lady of Grace Parish Council as President for four years and on the Home School Association, for 10 years. He remained active in numerous other religious educational, civic and arts organizations as well. Mr. Summers was a lifelong learner and had many hobbies and talents, such as Bible Study, Bible restoration, drawing, painting, photography, wood carving and portraiture. He was an inspiration to his family and many friends.
Mr. Summers is survived by his wife of 64 years Barbara, daughters Patricia Summers Gibson (Peter) and Barbara Summers Madaio (Michael), sons Gregory Francis Summers (Gerri) and Brian Thomas Summers (Jean), eleven grandchildren, and two great-granddaughters.
Visitation will be held on Wednesday, October 9, 2019 at Gallaway and Crane Funeral Home. 101 S. Finley Ave, Basking Ridge, NJ, from 4:00 – 7:00 pm.
Funeral Mass will be held on Thursday, October 10, 2019 at 11:00 a.m. at St. James RC Church, 184 S. Finley Ave, Basking Ridge. Interment will follow at Holy Cross Cemetery. For further information, or to leave an online condolence message please visit www.gcfuneralhome.com
In lieu of flowers, donations may be made to The New York Foundling, in memory of Frank J Summers, Development Department, 590 Avenue of the Americas, New York, NY 10011. https://www.nyfoundling.org/donate-online/.