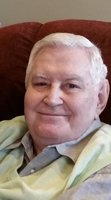 Edward S Walsh
Edward Sharp Joseph Walsh, 90, of Mendham, N.J., passed away on September 28, 2019 at Holly Manor Nursing Home.
A private family service will be held at St. Mary's Abbey Church, 230 Mendham Rd., Morristown N.J., at 9:30am, with Father Edward Seton Fittin officiating. Burial will follow at St. Patrick's Cemetery, 150 Troy-Schenectady Rd., Watervliet, N.Y. Gallaway & Crane Funeral Home will be handling the funeral arrangements.
Edward was born in Schenectady, NY to Thomas J. and Anna F. Walsh on February 4, 1929. He went to Bethlehem Central High School in Delmar, N.Y., graduating in 1947. He went on to earn a degree in Horticulture from Cornell University. He started Carac Corporation, owned and operated Glengarry Gardens in Wayne, N.J., and developed Nature's Miracle for houseplants. He loved growing Phalaenopsis orchids, traveling, with his favorite destination being Ireland, reading historical books and biographies and watching Jeopardy.
Edward is survived by his son Thomas J. and wife Virginia Walsh, Bedminster, N.J.; son, Michael C. and wife Ruth Ann Walsh, Chicago IL.; daughter, Dr. Teresa Anne and husband Gerard Robinson, South Hero, V.T.; daughter, Kathleen M. Walsh of New York City, N.Y.; daughter, Marianne M. Walsh of Andover Twp., N.J.; son, Patrick E. and wife Jennifer Walsh of New York City, N.Y.; and son, Edward S. and wife Lynn Walsh of Bedminster, N.J. He is also survived by twenty grandchildren: Jared, Bradford, Thomas, Kyle, Sean, Briana, Alana, Katie, Kimberly, Matthew, Kara, Kayle, William, Patrick, Hadley, Griffin, Wyatt, Rachel, Maggie and Anna and twelve great-grandchildren. Edward was preceded in death by his first wife Carolyn Hope (Haswell) and second wife Julia (Wolfe). He was also preceded in death by his sister, Elinor M. Senk and his brother, Thomas J. Walsh.
In lieu of flowers, the family suggests you buy a plant to grace your home in memory of their father.