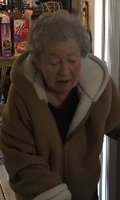 Louise J Thomas
Louise Julia Thomas, age 80, resident of Douglassville, PA, formerly of Escondido, CA, and formerly of Bernardsville, NJ, was called home by our Lord and Savior on September 27, 2019. She was born on October 20, 1938 in Bernardsville, NJ and is the daughter of the late Gustav and Anna Bearlepp. Louise is survived by her husband Anthony John Thomas, Jr who she married on October 27, 1956. She is survived by her three daughters; Louise J. Kolarsick (NJ), Linda Garcia (WA) and Ashley Hall (AZ), one son; Anthony John Thomas, III (IL), sixteen grandchildren; Travis Kolarsick, Courtney DeVito, Annemarie Thomas, Katherine Sedlacek, Sally Thomas, Anthony John Thomas, IV, Elizabeth Thomas, Jose Garcia, Jr, Adam Garcia, Christina Thomas, Miguel Gearhardt, Christian Ortiz, Diana Thomas, Nicole Jenkins, Jennifer Thomas, Gina Thomas, five great-grandchildren; Edward Sedlacek, Hailey DeVito, Gavin DeVito, Anthony John Ernie Thomas and Shelby Hall and one brother; Gustav Bearlepp, Jr. She is preceded in death by four siblings; John Bearlepp, Agnes Karroll, Helena Dancico and Anna Smeltzer.
Louise was born and raised in Bernardsville, NJ, spent most of her golden years enjoying the sunshine in America's finest city San Diego, CA and then spent her final years convalescing in the comfort of her home in Douglassville, PA. Louise is a graduate of Bernards High School Class of 1956. Louise enjoyed attending mass, jigsaw puzzles, going for long walks and receiving letters, phone calls and visits from her many grandchildren. She also loved to share memories of her beloved Pembroke Welsh Corgi, Sandy, who was by her side for over 10 years before passing in 1987; we know that she is overjoyed to be reunited with her loyal companion after all these years.
Visitation will be at Gallaway and Crane in Basking Ridge, NJ on Thursday October 3, 2019 from 2:00pm – 4:00pm and from 6:00pm – 8:00pm. Her funeral mass will be held on Friday October 4, 2019 at Church of Our Lady of Perpetual Help in Bernardsville, NJ at 11:00am. Graveside service will be at Holy Cross Cemetery on Mt Airy Rd in Basking Ridge, NJ at 12:00pm.