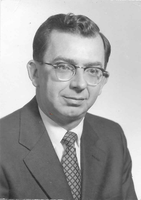 George W Stivers, Jr
George W. Stivers Jr., 88 of Bernardsville, NJ passed away on Thursday, September 26, 2019. His loving wife Doris (Durkin) predeceased him. He was born & raised in the Roseville section of Newark. The son of the late Agnes (Kiernan) & George W. Stivers. He graduated from St. Rose of Lima Parish School and went on to attend & graduate from Seton Hall Prep.
He worked for General Instrument Corp of Elizabeth from 1948 to 1952. He enlisted in the US Air Force and served from 1950 – 1955 during the Korean War. He spent 3 years in St. Johns New Foundland as part of the weather service. He was also stationed in Mississippi & Texas. After his return from the Air Force, he worked for Verizon for 31 years and retired as a Data Systems Staff Manager.
George and Doris enjoyed travel in Europe. He also enjoyed skiing and golf. He was also a member of the Parish Council at Our Lady of Perpetual Help Church.
George was also predeceased by this brother John (Jack) F. Stivers & brother in law Vincent P. Manion. He is survived by his sister Eileen Manion, 4 nieces & 1 nephew and 7 great nieces & nephews.