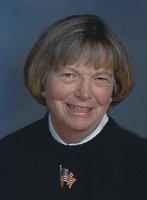 Bernice Elizabeth Paton
Bernice Paton, Devoted Mother, Harding Township Library Friends Founder
Bernice Elizabeth Gaal Paton, 86, died on June 27, 2019 in Basking Ridge, NJ. She was the daughter of Dr. Albert Frederick Gaal, OD, and Bernice Elizabeth Yuill Gaal. She was preceded in death by her husband, William Brewster Paton, in 2018.
Bernice's generous spirit was most evident in her devotion to her family, friends, and community, who will miss her deeply.
Raised in Maplewood, NJ, Bernice attended Columbia High School. She graduated from Centenary College, Hackettstown, NJ, where she was the editor of Spilled Ink, the college newspaper.
Bernice was married to William Brewster Paton, also a Maplewood native, for 65 years. They lived first in Short Hills, NJ, and then for 55 years in New Vernon, NJ. With her extended family, she spent summers at their home in Sea Girt, NJ, and later South Orleans, Massachusetts. Bernice was a real estate agent with Weichert Realtors for over twenty-five years.
Bernice was a lifelong volunteer for her community and her church. She was an active, and then sustaining, member of the Junior League of the Oranges and Short Hills. For many years, Bernice was a vital member of the Harding Township Civic Association and the New Vernon Volunteer Fire Department Ladies Auxiliary. Ordained as a deacon of the First Presbyterian Church of New Vernon, she supported every aspect of the life of the congregation.
A Founding Friend of the Kemmerer Library Harding Township, Bernice advocated for the book collection's move from Kirby Town Hall to its new home on Blue Mill Road in 2010. She was especially active promoting Art in Bloom, an event featuring sales by local artists to support the new building, books and ongoing programs.
Bernice is survived by her brother, Dr. Albert F. Gaal, Jr., of Califon, NJ; daughters Kathi Paton of Basking Ridge, Jeni Paton Cisek (Michael) of Florham Park; son John Paton (Margaret) of Mt. Arlington; grandchildren Shannon Paton Moran (Scott), Leigh Paton Rockoff (Andrew), Ray Paton, Erin Cisek, Matthew Cisek, Grace Uttal; four great-grandsons; four nieces and a nephew.
Bernice will be buried in a private ceremony. A memorial service will take place on July 11 at 11:00 AM at the First Presbyterian Church of New Vernon, Lee's Hill Road. All are welcome to attend and celebrate Bernice's life. In lieu of flowers, please consider donating a gift in Bernice Paton's name to the Kemmerer Library, PO Box 517, New Vernon, NJ 07976, HardingLibrary.org/Friends. To extend a condolence or share a memory, please visit gcfuneralhome.com