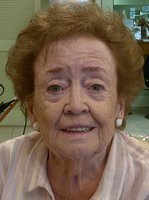 Eileen Mary Fitzsimmons
Eileen Fitzsimmons, 84, passed away peacefully on Friday May 10, 2019 at her home at Brightview Senior Living in Warren NJ.
She was born in Jersey City on August 6, 1934 to Mary Farrell O'Connor and Patrick O'Connor, and grew up in the Greenville section of Jersey City, where she attended school, first at St. Paul's Grammar School, then St. Aloysius High School. She was graduated in 1952 from St. Dominic's Academy. After high school, she worked at Metropolitan Life Insurance Co. in Newark.
At 19, Eileen married her childhood sweetheart, James Fitzsimmons, on Feb 20, 1954. Seven children arrived in the following 10 years, as the young family moved from Jersey City to Hazlet NJ, and finally to Sparta NJ, where the children grew up. Jim left his career in sales management to start his own business, focusing on interior design and custom kitchens, and Eileen helped him launch it in 1969 and was the Office Manager. She continued to run the business after Jim's death in 1972, for another 10 years. Extraordinary testament to the strength of her character is the fact that Eileen carried on alone, raising her seven children, then aged 6 to 17. She was active for a number of years in the Sparta Chamber of Commerce and Zonta, the women's service and advocacy group. Eileen enjoyed travelling, and among her fondest memories were trips with her children over the years, to Ireland and Italy. She loved keeping up with her children's and grandchildren's coming and goings, concerts, horseshows, ceremonies, promotions, dance recitals, art exhibits, graduations, celebrations and entrepreneurial ventures.
In 2016 Eileen decided to move into the assisted living wing of Brightview Warren, where she has enjoyed the bright, nurturing atmosphere and made good friends.
Eileen leaves behind six devoted children, Kathleen and husband Roberto Francesconi, James and wife Magdalena, Patrick, Eileen, Maureen, and Mary Kate and her husband Eric Keller; and grandchildren Molly Fitzsimmons, Eileen Francesconi, James Shorts and Joshua Thompson. Eileen was predeceased by her son Scott in 1975, grandson Patrick Long in 2017, her sister Kathryn McSharry in April of this year, and as mentioned, her husband Jim in 1972.
A funeral mass will be celebrated on Wednesday, May 15th at 11:30 at St. James Catholic Church in Basking Ridge. Visitation will be Tuesday, May 14th from 4-7pm at Gallaway and Crane Funeral Home, 101 South Finley Ave., Basking Ridge, N.J.
In lieu of flowers the family asks you to consider donating to Celebrate the Children School, a worthy, non-profit school for children with alternative learning styles https://www.celebratethechildren.org/annual-campaign.html.