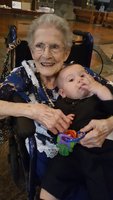 Blanche O Fenimore
Blanche Fenimore, 94, of Bernardsville, NJ passed away peacefully on Sunday, May 5th, 2019, at Morristown Medical Center after a short illness.
She was born at home in Bernardsville, in August of 1924, to Philomena (Mastrobatistta) and Luigi Matera, and lived there her entire life. She graduated from Bernards High School, and received her RN from St. Mary's Hospital, Orange, NJ. She worked at All Souls Hospital and as the school nurse at Mount Saint John Academy in Gladstone, NJ. She was married to James T. Fenimore, in 1948, who taught Biology and later became head of the Science Department at Bernards High School.
Blanche was well known for her extraordinary cooking and baking ability, kept an immaculate household and enjoyed knitting and reading. She was a member of Our Lady of Perpetual Help Parish, and was a very generous supporter of many charities.
She was predeceased by her husband Jim and her brothers Robert and Guido Matera, and her sister Elvira Angelone.
She is survived by her devoted children, John A. Fenimore, Esq. and his wife Susan(Schott) of Bernardsville, and Dr. Dario A. Fenimore and his wife Nancy(Salmon) of Morris Plains; her loving grandchildren, James Fenimore and wife Daill, Dario R. Fenimore, Victoria Pekarsky and husband Joey, Christopher Fenimore and fiance Alyssa Ciccotelli, Julie Nocerino and husband Michael, and Matthew Fenimore; her beloved great-grandchildren, Dylan and Rhys Pekarsky and Michael Nocerino; and many nieces and nephews.
A mass of Christian Burial will be celebrated on Thursday, May 9th at 10:00am at Our Lady of Perpetual Help Church on Seney Drive in Bernardsville. Visitation will be on Wednesday, May 8th, from 4-7pm at Gallaway and Crane Funeral Home, 101 South Finley Ave., Basking Ridge, N.J.
In lieu of flowers please consider donating to St Jude Children's Research Hospital or Wounded Warrior Project in her memory.