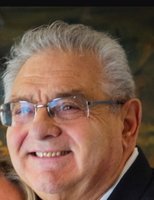 Frank Careri
Long Branch – Careri, Frank, age 74, died on April 18th, 2019 at Robert Woods Johnson University Hospital shortly after saying a final good bye to his beloved family.
Frank was born on April 24th, 1944 in Brooklyn, NY to parents Rose Careri and Vincent Careri. Frank succeeded in everything he did. After graduating high school, he attended LIU before being drafted into the services. Frank is a veteran of the Vietnam war where he served his time in Korea as a Petroleum Analyst for the US Army (Rank: Specialist E 5) . After returning home he built a career in food services spanning over 50 years, with the final 30 years as an industrial caterer where he took great pride of holding the title of The Coffee man. Frank retired to the Jersey Shore where he was able to spend every single day of his retirement with his grandchildren, driving them to and from school and volunteering at the school and spending time with his large extended family who became a source of great happiness to him.
Frank leaves behind his loving Wife of 46 years Thresa Careri(nee-Maddaluna), his daughter Jill Christine Careri, and his son Christopher Frank Careri(Jana). As well as his three grandchildren, Benjamin Frank, Maxwell Anthony and Kennedy Rose Careri. He is also survived by his sister Tina D'Angelo, his 6 brother in laws, their families and many loving nieces, nephews, cousins and friends who were loved as family.
Visitation will be held Thursday, April 25 4-7pm at the Gallaway and Crane Funeral Home, 101 South Finley Ave, Basking Ridge, NJ.
Liturgy of Christian burial will be held Friday, April 26 11:00am at Our Lady of Perpetual Help Church, 11 Claremont Road, Bernardsville, NJ.
In lieu of flowers, Frank's family requested donation in his name to the SPCA-Momouth Chapter, 260 Wall Street, Eatontown, NJ 07724 or Wounded Warrior Project, PO Box 758517, Topeka, Kansas, 66676-8517