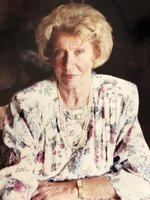 Rae Fennimore
It is with great sadness that the family of Rae Fennimore announces her passing at the age of 95 on Monday March 25, 2019 in Hackettstown NJ.
Rae was born and raised in Netcong, NJ to Lulu and Lewis Elston on November 27, 1923 and graduated from Netcong High. She was a loving mother and grandmother and enjoyed reading and watching mystery shows on television. She also enjoyed playing card games with family and doing puzzles. Rae was an avid animal lover and spent most of her life with a pet. She always had a smile on her face and was well liked by everyone she met. She was a breast cancer survivor and an inspiration to those around her. In her younger years, she enjoyed to play golf and gave the men a run for their money. Rae spent a majority of her life in Basking Ridge and her later years at the House of the Good Shepherd in Hackettstown NJ.
Rae is survived by her daughters Sharyn Krebs of Grand Island, NY and Judie & Richard Schaehrer of Wayzata, MN. She is predeceased by her daughter Donna Van Duyne Lange, She is also survived by her grandchildren Sarah & Aaron Frandano, Ryan & Katie Van Duyne, Rob & Lori Schaehrer, Kevin & Erin Schaehrer, Rick & Sunnie Schaehrer, Keith & Kristen Schaehrer, Sandra & Dean Santorio, and John & Lauren Krebs, along with numerous great grandchildren.
Memorial services will be held at Gallaway and Crane, 101 S. Finley Ave, Basking Ridge, NJ 07920 on Saturday, March 30, 2019 from 1pm-3pm with a service at 2pm. In lieu of flowers, donations may be made in her memory to the Humane Society at humanesociety.org. For further information, of to leave an online condolence message for the family please visit www.gcfuneralhome.com