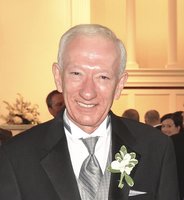 George Dunn
George Peter Dunn passed away on Sunday, February 3rd at the age of 76. He was born in the Ridgewood section of Brooklyn, New York to the late Harold and Mary Dunn, and attended Brooklyn Technical High School. In the late 60s and early 70s, he served in the Air National Guard, attended the College of Insurance, and sold life insurance. George met his wife at INA Insurance, where he started his full-time insurance career. He started his family in Glendale, Queens, before moving to Basking Ridge in 1979. George had a long insurance career, primarily as a wholesale insurance broker. Along with close colleagues, he founded and operated CMI for many years. He was still placing business, now with NIF, until his death.
George was a history buff, a Mets fan, and a crossword enthusiast who never lost a game of Trivial Pursuit. He was proud of his Irish and German heritage. He loved golf, music (including playing in some bands), and travelling the country and Caribbean with his family. Each year, he returned to his beloved Catskills, in the Greenville area to which his parents first brought him as a child. Family was always the anchor of his life. For the past two years, he has cherished his role as 'pop pop' to his two-year-old grandson.
He will be deeply missed and lovingly remembered by his daughters Kerry Dunn and Kristin Dunn, son-in-law Matthew Block, and grandson Declan Dunn Block. He was predeceased by his wife, Claudia Tanner Dunn, and his sister, Arlene Wolfrath.
Visiting hours will be held from 2pm - 4pm and 6pm – 8pm on Friday, February 8, 2019 at Gallaway and Crane Funeral Home, 101 S Finley Ave, Basking Ridge, NJ. Funeral Service will be at Gallaway and Crane Funeral Home on Saturday, February 9 at 11 am, followed by a burial at Somerset Hills Memorial Park.