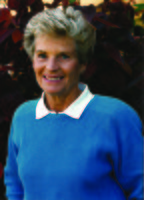 Nancy K Maloney
Nancy Keane Maloney, 89, Loving Mother, Athlete and Gardener
Nancy Keane Maloney, a 50-year Basking Ridge resident and St. James Parishioner, died peacefully on January 29. She was 89.
Mrs. Maloney was born in Yonkers, NY and raised in Scarsdale, NY and was the daughter of John P. Keane and Helen L. Keane. She was a 1951 graduate of Trinity University in Washington, D.C.
Nancy was married to Francis (Rusty) Maloney (d. 2010) for 57 years and together they were active in the community and avid golfers and tennis players. Nancy and Rusty had 6 children: Denis J. Maloney of Portland, OR; Kathleen M. Kelly of Potomac, MD; Eileen M. Douglas of Stormville, NY; Timothy I. Maloney of Lavalette, NJ; Kevin F. Maloney (deceased); and Nancy Maloney of South Orange, NJ. She had 11 grandchildren and four great-grandchildren.
Funeral services will be held at St. James Church 184 South Finley Ave, Basking Ridge, NJ on Monday, February 4. Family will receive visitors from 10-11am, with a funeral mass to follow at 11am. In lieu of flowers donations may be sent to Bethel Ridge Group Home (bethelridgenj.org). For further information, or to leave an online condolence message for the family please visit www.gcfuneralhome.com