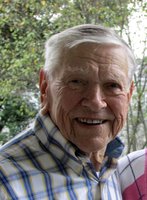 Earle Robert Pearson
Earle Robert Pearson, a resident of Fellowship Village in Basking Ridge, NJ, went to be with the Lord on January 20, 2019. He died peacefully at age 97, with his wife of 65 years, Diantha, and his family by his side.
A native of Minneapolis, MN, Earle was born on February 8, 1921, the youngest of six boys of Anton H. Pearson and Emma Christina Swanson Pearson. He was a World War II veteran who had a career in sales and was active in his church and community.
Enlisting in the US Army in 1942, Earle served as a Sergeant First Class in the 601st Ordnance Battalion under General George Patton, in North Africa and France from 1942 to 1945. Returning to Minneapolis after the war, he attended the University of Minnesota and began a career in sales, first at Russell Miller Milling Company, and for 30 years in sales and management at medical supply manufacturer Everest and Jennings Company in Murray Hill, NJ.
In 1953 he married Diantha Miriam Sudor, a registered nurse at Lutheran Deaconess Hospital in Minneapolis, and they had two daughters, Mary and Martha. Earle's work took the family from Minneapolis to Milwaukee to Glendora, California, and eventually to New Providence, NJ.
A choral singer who was blessed with a rich tenor voice, Earle sang in many choral groups throughout the years, including the Essex Chorale, The Basking Ridge Presbyterian Church Oratorio, and for over 40 years with the Faith Lutheran Church choir. He was also active in musical theater, performing most recently with the Fellowship Village Players and Chorus.
Earle expressed his pride in his Swedish cultural heritage as a member of VASA Order of America Lodge Linne No. 429. He also served on Council at Faith Lutheran Church, on the Board of the New Providence Historical Society, and he was President of the Overlook Hospital Protestant Service Community Board in Summit, NJ. Earle and Diantha received the Overlook Hospital Foundation's Lifetime Achievement Award for Volunteerism in 2005.
A genuine connection to a large extended family and many friends reflected Earle's gregarious nature. Though he had to deal with numerous health problems in his later years, he remained active and outgoing and always maintained his sense of humor.
Earle was preceded in death by his parents, and his brothers Ralph, Raymond, Claude, Vernon, and Wallace. He is survived by his wife, Diantha, and his daughters, Mary Barbour (Alfred) of Sewickley, PA, and Martha Kiger (Patrick) of Takoma Park, MD, and two grandchildren, Anna Christina Barbour and Jerome Minh Le Kiger. The family wishes to express thanks to the dedicated doctors, nurses and caregivers at Fellowship Village and Garden State Hospice.
A Memorial Service will be held at Faith Lutheran Church in New Providence on Saturday, March 9, 2019; at 2:00 pm. Burial will be private. In lieu of flowers, the family requests donations to Faith Lutheran Church, 524 South Street, New Providence, NJ 07974 or the Overlook Hospital Foundation, 36 Upper Overlook Road, Summit, NJ 07902. For further information, or to leave an online condolence message please visit www.gcfuneralhome.com