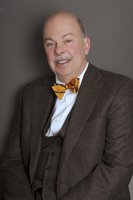 John J Murphy
MURPHY – John J., of Bernardsville, NJ died peacefully on December 31st at the age of 74 after a long battle with cancer. In the weeks leading up to his death he was surrounded by his loving family. John was born and raised in N.J. A recipient of the Bache scholarship, John graduated with a BS degree in economics from New York University and attended their Graduate School of Business, majoring in finance. He started his career with Bache and Co. where he was groomed in their training program and held roles as a block trader and then as a research analyst within their institutional division. In 1970 John moved on to become Vice President and Senior Investment Portfolio Officer of Citizens First National Bank of New Jersey, where he was responsible for the investment policy and management of the bank's trust, pension and profit-sharing divisions. In 1983, John left the bank and founded Murphy Capital Management, Inc. in Ridgewood, NJ. The firm still exists today as a subsidiary of Peapack-Gladstone Bank and is a part of the Peapack Private wealth management division.
John also truly enjoyed the time that he spent serving on various financial boards. At the time of his death, John was a Trustee, and former Chairman from 2011-2017, of the Morgan Stanley CGCM Funds, Director for The Legg Mason Allocation Funds and The Legg Mason Multiple Trust and a Director for UBS Funds and UBS Fort Dearborn Funds. John was also a retired Director for the Nicholas Applegate Institutional Funds and a retired Director for the Barclays Bank International Funds, London.
John and his beloved wife, Suzann, had been married for over 42 years at the time of his death. The two of them spent most of their free time together and in the summer months, a lot of that time was in Watch Hill, R.I. where they kept a rigorous social calendar and had many friends who are very dear to them. John is also survived by his two sons, Preston, his wife Katherine Thornburg Murphy and Cameron. Some of his favorite activities when he had time to pursue them was shooting sporting clays and being anywhere near the ocean. John was still an active member of the Flint Hill Preserve, Jockey Hollow Fish and Game, The Morristown Club and The Watch Hill Yacht Club. John was also a member of The New York Society of Security Analysts. John's calm demeanor, generosity and kind spirit touched a countless number and he will be sorely missed. Contributions in his memory may be made to the charity of one's choice. A celebration of life will take place in the spring.