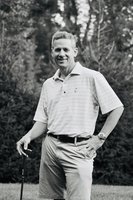 Brian B. Kramer
Brian B. Kramer, 59

On December 26, 2018 our son, father, brother and friend departed, leaving a legacy of unconditional love and friendship behind him. Born October 13, 1959 in Hewlett, NY, Brian spent his early years in Liberty, NY before moving to Florida with devoted mother, Sondra Kramer of Hobe Sound, FL, as well as older brother, Robert S. Kramer of Stuart, FL. Robert and Brian were an inseparable pair from an early age and shared the common passion of golf, an unbreakable bond that remained throughout their entire lives. Both Kramer brothers graduated from Nova High School in Davie, FL, earned golf scholarships to Florida Southern College and competed together in NCAA Division II National Championships.
After graduating college, Brian had the opportunity to learn the family textile business in NYC. He then proceeded to own and operate Guide Fabrics, Inc. for over 35 years. His dedication to the company as well as being a gentleman and honest businessman contributed to the success he was able to achieve.
Brian settled in Basking Ridge and Far Hills, NJ with his family and served as an exemplary father to Samantha Elizabeth and Drew Matthew. He was the ultimate role model for his children and taught them the meaning of life, and to always celebrate each day. Brian's motivation was to take care of his family and to ensure that they were loved and protected; something that he did each and every day. His family and friends will always remember his infectious smile, dazzling blue eyes and infamous one liners.
Brian's passion for golf not only included collegiate accolades, but also various club championships as well as participation in Metropolitan Golf Association and NJSGA events, which later earned him a trip to the U.S. Mid- Amateur in 2007. Brian was a true champion, humble in his victories and gracious in competition. In addition to his golf talent, Brian was an accomplished clarinetist and alto saxist winning numerous state awards in New York and Florida.
Along with his mother, brother and children, Brian also leaves behind sister-in-law Kathryn Kramer of Stuart, FL, niece Stephanie Muhs, wife of Sam Muhs of Brooklyn, NY, niece Margaret Kramer of New York City and great nephew Bobby. Tara Kramer of Chester, NJ also served as a best friend to Brian. Brian was predeceased by father, Lawrence Kramer of Marina Del Rey, CA.
Visitation with the family will be held on January 2, 2019 from 8:30-11:30am at Gallaway and Crane Funeral Home, 101 S. Finley Ave, Basking Ridge, NJ, followed by a Celebration of Life.
In lieu of flowers, please consider a contribution to aid in finding a cure for HLH, by donating to cincinnatichildrens.org/service/h/hlh. For further information, or to light an online condolence candle please visit www.gcfuneralhome.com