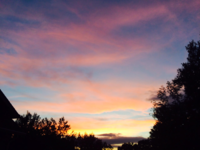 Christine M. McKenna
In lieu of flower s donations may be made in her memory to the Edward and Christine McKenna Scholarship Fund at St. Peter's Prep School in Jersey City.
Love is patient, kind
Love does not
envy, boast, dishonor others
Love is not
proud, self seeking, easily angered
Love keeps no record of wrongs.
Love does not delight in evil
but rejoices with the truth.
Love always
protects, trusts, hopes, perseveres.
Love never ends.