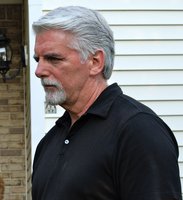 Michael Bingle
Michael Alan Bingle born August 1st, 1948 passed away on Wednesday, April 4th, 2018. He is survived by his wife, Leigh Ann Harris, daughters, Bridget Erin and Victoria Danielle, sister Eleanor Vince, and brother Jay Bingle.
Mike passed away suddenly at home on Wednesday, April 4th. It was a life well led, but he left us far too soon.
Mike was a decorated combat war veteran of Viet Nam. He was awarded a bronze star for bravery, during his term of service in the infantry. When he returned to the states, he taught infantrymen how to survive in the jungle in Tiger land, Fort Polk, LA.
Before he was drafted into the army in 1968, he was a programmer building Accounts Payable systems. When he returned from his tour of duty in the Army, he was given a job in Operations. He quickly moved into a manager role in Operations, and then transitioned into System Programming for Blue Cross/Blue Shield. Eventually, he became an international IT Auditor for WR Grace, where he was able to experience travel to many countries. As IT Director at Liz Claiborne, he introduced controls and best practices to the organization. He became CIO for Tsumura, a Japanese consumer goods company and finally rounded out his career as a highly qualified consultant to various Fortune 100 companies.
Although work was important to him, his family came first. He was thrilled with the birth of his first daughter, Vickie Bingle, on May 22nd, 1983. Later in life, he fell in love with Leigh Harris in 1996 and they welcomed a baby girl, Bridget Bingle on June 13th, 1999. His passion for cooking never failed to put a smile on his family's faces. While in retirement, he enjoyed gardening as well as reconnecting with people he had served with in Vietnam.
Mike will be remembered best for his strength, kindness, and strong sense of loyalty. He will be desperately missed by his wife, daughters, and three cats.