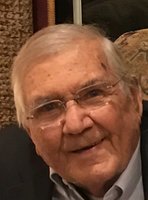 Philip Saalmuller
Philip (Phil) F. Saalmuller, 81, of Bernardsville, NJ, passed away on March 31, 2018 in Robert Wood Johnson University Hospital Somerset.
Visitation will be held on Friday, April 6, 2018 at Gallaway and Crane Funeral Home, 101 S. Finley Ave, Basking Ridge, NJ, from 10:00 – 11:30am. Funeral Mass will follow at 12:00pm at Our Lady of Perpetual Help Church, 111 Claremont Road, Bernardsville, NJ. Burial will be at Holy Cross Cemetery, Basking Ridge. For further information, or to light an online condolence candle please visit www.gcfuneralhome.com.
Phil was the son of Philip F. Saalmuller, Sr. and Rose Saalmuller. He went to high school at Bayley Ellard where he graduated in 1955. He attended Fairleigh Dickinson University in Madison, NJ. Phil worked as a Purchasing Agent for the family company, Anthony Ferrante and Sons for 21 years and was also a Warehouse Supervisor for Standard Roofing Company.
Phil had a passion for all sports and was a loyal Giants and Yankees fan. He was an avid golfer and worked for the Coakley Russo Memorial Golf Course at the VA Medical Center Complex after his retirement. He had a love for all animals, especially his beloved dog, Brodie, and enjoyed working in his niece Marybeth and Chris Daras's pet store, The PetStop in Lyons. His true enjoyment came from his many years watching his grandchildren participate in their extracurricular activities.
He also served as a volunteer for many years at Mayo Performing Arts Center in Morristown, NJ.
Phil will be remembered by all as a fun loving, warm and caring father, Pop- Pop, husband and friend. His family will always remember his playful sense of humor, words of wisdom, endless hours spent with his daughters practicing sports, the twinkle in his blue eyes and his courage and determination in all aspects of his life.
Phil was proud to serve in the United States Air Force from 1955-1959.
He is survived by his two devoted daughters, Tara and husband, Tim Hanlon of Bernardsville, NJ and Laura Schilpp of Wall, NJ, three adoring grandchildren, Tess and T.J. Hanlon and A.J. Schilpp and many nieces and nephews. He is preceded in death by his beloved wife, Bette Saalmuller and his loving parents, Philip and Rose Saalmuller.
In lieu of flowers donations may be made in memory of Phil's name to Autism Speaks, www.autismspeaks.org or St. Hubert's Animal Welfare Center Madison, www.sthuberts.org/donate.
The family wishes to extend their gratitude to all for your prayers and support during this time.