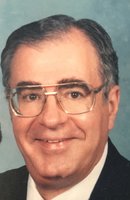 John T Flynn
John ("Jack") Flynn of Bernardsville, NJ passed away March 23 at home surrounded by his loving family after a long illness.
Visitation will be at Gallaway & Crane Funeral Home, 101 S. Finley Avenue, Basking Ridge, NJ, on Monday, April 2, 2018 from 4-7pm. A Mass of Christian Burial will be offered at Our Lady of Perpetual Help, 111 Claremont Road, Bernardsville, NJ at 11am on Tuesday, April 3, 2018. Burial will follow at Arlington National Cemetery at a later date.
John was born in Des Moines, Iowa, to Virginia (Barnaud) and John Flynn in 1942. He lived most of his childhood in South America where his father was assigned to a number of diplomatic posts. He was a graduate of St. John's Military Academy in Rockville, MD. He received his undergraduate degree from Notre Dame in South Bend, Indiana and his law degree from George Washington Law School in Washington, DC.
John was proud to serve in the US Army and served in the 1st Cavalry Division in Vietnam, where he rose to the rank of Captain and was awarded the Bronze Star.
Before and after his service in Vietnam, John worked for the Central Intelligence Agency. He later moved to the New York/ New Jersey area to take the position of general counsel for Federal Paper Board until it was acquired by International Paper. He then spent the last third of his career as Senior Counsel for Buck Consultants in NYC.
He is survived by his loving wife of forty-nine years Marie, his devoted daughters Jamie (Ed McDowell) and Jacqueline (Matthew Pedersen) and his two sisters Kathleen (Richard Schmidt) and Maura (Andrew Pratt). His favorite times were when he was "Papa" to his grandchildren Jack, Emeline, Margot, Ryan and Oliver. He always looked forward to the annual Flynn Family Reunion so he could also catch up with his many cousins, nieces and nephews.
He will be remembered for his wry humor, calm demeanor and kind heart. He was a devoted husband and father and will be sorely missed.
In lieu of flowers, donations in John's memory to the ALS Association or to a Veterans' association would be deeply appreciated. For further information, or to light an online condolence candle please visit www.gcfuneralhome.com