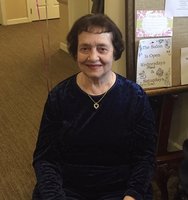 Shirley Dimperio
Shirley Louise Dimperio died peacefully on March 1, 2018, at Sunrise Assisted Living in Basking Ridge, New Jersey. She was born to Margery King on September 8, 1933 in Buffalo, New York, and was raised in Binghamton. After high school graduation, she attended nursing school in New York, New York. On June 26, 1954, Shirley married Frank Dimperio, and settled in the Bronx. She continued her long, and rewarding nursing career at Pelham Bay General Hospital in the Bronx, before moving to Garnerville, New York and working at Nyack Hospital. After retiring, she moved to Somerset, New Jersey to be closer to her youngest daughter, Carol, and her family. During her retirement, Shirley enjoyed traveling, playing cards, reading, and spending time with her beloved children and grandchildren. She was also an active member of the Catholic Church, and the Senior Citizens Community in Somerset, New Jersey. She was a kind, compassionate and generous soul who will be greatly missed by those who knew and loved her.
Shirley is survived by her two cherished children, Julie Holowach and her husband Al of Naples, Florida, and Carol Durso and her husband Frank of Far Hills, New Jersey. She will also be greatly missed by her four dear grandchildren, Alexandra and Dean Holowach, and Amanda and Anthony Durso.
Visitation will be held on Monday, March 5, 2018 at Gallaway and Crane Funeral Home, 101 S. Finley Ave, Basking Ridge, NJ from 4:00-8:00 PM. The Funeral Mass will be held at 10:00 AM on Tuesday, March 6, 2018 at St. James Roman Catholic Church, 184 S. Finley Ave, Basking Ridge, NJ 07920.