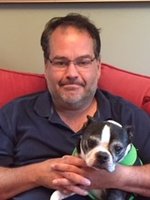 Steven J. ReFalo
Steven James ReFalo, 46, of Basking Ridge, NJ passed away at home on Tuesday, February 27, 2018.

Born and raised in Basking Ridge, he was the son of the late John James Jr. and Shirley Anne (Brown) ReFalo. He graduated from Ridge High School in 1989, and attended college in Colorado where he fostered his love of snowboarding. He returned back home to New Jersey in 1993.

After college, Steve worked as a bartender for several local establishments. He also tried his hand at auto mechanics, fixing up vehicles that he could flip or use himself. When he worked as a dog walker for a friend's business in Flemington, he realized his greatest joy: caring for animals. He found that pets were the greatest of friends and started his own business, Pet Pals of Basking Ridge.
Steve loved animals and welcomed each one he met into his large animal family. He cared for other people's pets as diligently and devotedly as he did his own. His animal family included a wide array of dogs, cats, birds, pigs, chickens, and any other beloved companions entrusted to his loving care. He brought great happiness to the lives of the animals he cared for, and a great sense of comfort to their owners who knew he would be the best buddy their furry family member could have in their absence. He spoke of each animal he to whom he tended with pride.
Surviving family include his brothers: John J. Refalo III married to Jude (Freeman) of Kingwood Township, Michael B. ReFalo of Weehawken, Richard L. ReFalo married to Allison (Barclay) of Lebanon, Robert P. ReFalo of Blairstown; his sister, Lynda M. Boysel of Narvon, PA; and a nephew, five nieces, two great-nephews, 3 great-nieces and their families. Also surviving Steve are the many members of his furry, feathered, and hoofed family. Steve was known for his kind heart and will be greatly missed.
Memorial Gathering will be held on Saturday, March 24, 2018 at The Church House Parlor, 1 East Oak Street, Basking Ridge, NJ from 1:00 - 2:15pm. Memorial Service will follow at The Church House Parlor at 2:15pm. In lieu of flowers, the family recommends donations to: St. Hubert's Animal Welfare Center, P.O. Box 159, Madison, NJ 07940.
Arrangements handled by the Gallaway and Crane Funeral Home, Basking Ridge. For more information contact the funeral home at (908) 766-0250; or to light an online condolence candle visit www.gcfuneralhome.com.