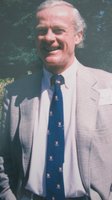 Harry Towne Jones
Harry Towne Jones, III, 82 years old, Athlete, Marine
Born on April 24, 1935, in Paterson, New Jersey, he was the son of Harry Towne Jones, Jr. and Helen Boswick Jones. He graduated in 1953 from the Gunnery School in Washington, Connecticut, where he was inducted into the Athletic Hall of Fame; and attended Middlebury College in Vermont. He later joined the United States Marine Corps in 1958, serving in the U.S. and Okinawa. In 1961, Harry married the love of his life, Judith Johnson. They lived in Ohio and Westfield before settling in Bernardsville, New Jersey. He was a principal in the Tower-Jones Company, which handled the sale and distribution of manufacturing equipment primarily to the pharmaceutical and food production industries.
Beyond his love for his family and profession, there was nothing more important to Harry than athletics. He was a dedicated athlete and fierce competitor in numerous sports, including ice hockey, tennis, paddle, biking, triathlon, and ironman competitions. He loved running and participated in numerous marathons, including the New York City marathon. As a biker, he completed the Tour de Wyoming and Tour de Colorado, well into his seventies. He often competed in tennis tournaments with his late wife, Judy, capturing multiple championships in the Somerset Hills area. He was a member of the Essex Hunt Club, the Somerset Lake and Game Club, and served on the boards of the NJ Audubon Society and the Morristown Club.
Harry spent summers in Sun Valley, Idaho, where he enjoyed hiking and biking and the Sun Valley Symphony. He was preceded in death by his wife, Judith Johnson Jones, his parents, his sister Betsey Jones Martin, and his daughter-in-law, Allison Horstmann Jones, who died in the Twin Towers on September 11, 2001. He is survived by his son, Harry Towne Jones IV of Boulder, Colorado; his sister, Nancy Cushing-Jones, and her husband, William Nix, of Studio City, California; and two grandchildren, Charles Griffin Jones (Finn) and Amelia Ebsen Jones (Mia), both of Boulder, Colorado. A memorial service will be held at the Church of St. John on the Mountain in Bernardsville on March 10, 2018 at 11:00 AM. Memorial contributions in Harry's name will be gratefully accepted by the Wounded Warrior Project (https://support.woundedwarriorproject.org) and the New Jersey Audubon Society, 19 Hardscrabble Road, Bernardsville, N.J., 07924. Arrangements are by the Gallaway and Crane Funeral Home, 101 S. Finley Ave, Basking Ridge.